Winning the Wetmore Way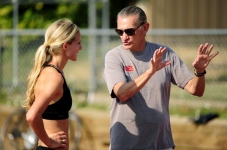 August 23, 2016
"They are waiting for the battle of St. Crispan's Day, and are outnumbered five to one. Sometimes this year, with wave after wave of scandal in our sport, it has felt as if we were up against impossible odds. But, 'She who has no stomach for this fight, let her depart ... .' "
By Mike Sandrock, The Daily Camera
Hadley Kamminga-Peck is a dramaturge and theater instructor, not a runner, but she recently helped me understand the secret of Mark Wetmore's coaching success at the University of Colorado and with a handful of professional runners. The apex came in Rio de Janeiro last week with the Olympic bronze medal runs of Emma Coburn in the 3000 meter steeplechase and Jenny Simpson in the 1500 meters.
For track athletes, this is the final destination, the mountain top, the goal of all the years of training. These were the first Olympic medals ever by an American female in the 1500 meters and steeplechase, and were earned in thrilling, down-to-the-wire racing by both runners.
Simpson and Coburn have been with Wetmore and Buffs' assistant coach Heather Burroughs since their freshmen years, both live in Boulder, and both credit their coaches with getting them ready for Rio, physically and mentally.
Continue reading at: www.dailycamera.com