With the upcoming NYRR Millrose Games, here are 10 things to know about the NYRR Wanamaker Mile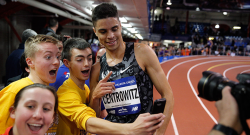 February 07, 2017
Bernard Lagat has the most Wanamaker Mile titles for men and Mary Decker and Regina Jacobs for women
By Stuart Lieberman, New York Road Runners
The NYRR Wanamaker Mile is the signature event of the NYRR Millrose Games, and this year's race on Saturday, February 11 will include both Olympic medalist Clayton Murphy and defending champion in Shannon Rowbury. The race will be broadcast live nationally by NBC Sports Group.
With the upcoming NYRR Millrose Games, here are 10 things to know about the NYRR Wanamaker Mile:
1) The NYRR Wanamaker Mile is named after department store founder Rodman Wanamaker. "Millrose" was the name of his Pennsylvania estate.
2) The first NYRR Wanamaker Mile was held in 1926 and won by James. J. Connolly. A women's race was included for the first time in 1976 and was won by Jan Merrill.
3) In 1932, which marked the 25th anniversary of the Millrose Games, the University of Pennsylvania's Gene Venzke won in an indoor world record time of 4:11.2, the first indoor WR set in the race's history!
4) The first Wanamaker Mile under the coveted 4 minute mark was run in 1974, when Tony Waldrop of the University of Carolina passed Marty Liquori on the last lap to win in 3:59.7.
Millrose Games information & news HERE.