Women's 1500: Kipyegon Upsets Dibaba, Jenny Simpson Wins Bronze in Rio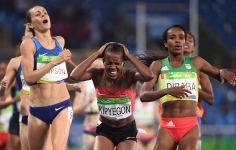 August 16, 2016
The world record holder was overtaken with 200 meters to go by this year's fastest woman. Americans Jenny Simpson and Shannon Rowbury finished 3rd and 4th respectively.
By Scott Douglas, Runner's World
In the first real upset in a middle-distance or distance final of these Games, Kenya's Faith Kipyegon beat world record holder and reigning world champion Genzebe Dibaba with a strong move over the last 200 meters.
American Jenny Simpson moved into third on the backstretch and won the bronze medal, the first-ever Olympic medal by an American woman in the event. Shannon Rowbury, the other American in the field, also closed strongly and finished fourth.
Because of the extremely tactical nature of the race, Kipyegon's winning time was 4:08.92, slower than the Olympic qualifying mark. Dibaba ran 4:10.27, and was almost overtaken by Simpson, who ran 4:10.53. Rowbury ran 4:11.05.
"I don't remember a lot of the race," Simpson said. "I know we went out slow because people keep asking me about it. I am suffering some amnesia. I just remember my coaches gave me a mantra coming into this race. Their mantra for me was 'position' the first two laps, and the second two laps be a 'predator.' I think they know what brings out the best in me."
Her coaches thought she'd do well to be "in a position to see the medals and run them down," Simpson said.
The race was extraordinarily slow for almost all of the first two laps. The first of the three and three-quarter laps passed in 76.57, or about 5:10 per mile pace, a good time for a high school girl. The languid pace continued for another 300 meters.
Such a slow pace had its roots in last year's world championship final. There, Dibaba ran in the back of the pack until there were two laps to go, and then ran the last 800 meters in 1:57, which is fast enough to win most global titles at the shorter distance. With such a tactic expected again, Dibaba's competitors had no incentive to do anything but go as slow as possible and wait for her move.
Continue reading at: www.runnersworld.com