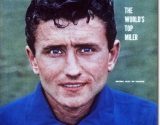 August 30, 1965
"The Mile has been my ambition. All the really great names are there: Bannister, Landy, Elliott, Snell. These men are idols to me. Now the ambition is realized. I've done what I set out to do."
By Edwin Shrake, Sports Illustrated
At Courtemanche Stadium in the market town of Rennes near the...
Read More
comments