20,000 put best feet forward for GOAL Mile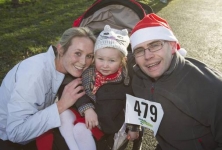 December 26, 2013
120 Mile events across Ireland plus Lebanon and Syria; fundraiser has become a Christmas institution
Cormac McQuinn & Clodagh Sheehy, Irish Independent
Up to 20,000 people descended on 120 of the country's parks and sports grounds as part of the biggest ever annual GOAL Mile fundraising event.
Getting in on the act were Irish troops in Lebanon and Syria who rose at the crack of dawn for GOAL Miles of their own.
The overseas aid charity is hoping to raise more than €200,000 this year.
"We've made an extra-special effort this year," said the charity's chief executive Barry Andrews, who took part in the event in Kilbogget Park, south Dublin, along with 3,500 other participants yesterday.
DELIGHTED
He said the charity was delighted that the GOAL Mile has become a "Christmas institution".
"It's a great family event and it gets people in the right mood for their turkey and ham later on," he said.
Continued reading at: www.independent.ie