2015 Camel City Elite Prize Money Announced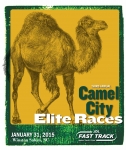 October 01, 2014
Event record of more than $35,000 including $4000 for men's and women's Mile champions; indoor meet slated for Saturday, January 31, 2015
WINSTON-SALEM, N.C. – JDL Fast Track has announced the prize money for the 2015 edition of the Camel City Elite races, to be held in conjunction with the Hilton Garden Innvitational collegiate meet on Saturday, January 31, 2015. With early support from corporate sponsors, the Camel City Elite races will be awarding more than $35,000 in prize money, and has the potential to expand upon that with funding efforts ongoing.
In 2015, the Camel City Elite races to be contested will again feature the men's and women's Mile, 800m and 3000m races. The Camel City Elite races will mix in top collegians from the area along with professional runners chasing the cash prizes and facility record bonuses.
"This year, we have had two local sponsors, Salem Sports and Mellow Mushroom Winston-Salem, step up in a huge way. Both companies have committed to providing $4000 in first place prize money for the men's and women's Mile races, respectively," said Craig Longhurst, facility director and elite athlete coordinator for the Camel City races.
The prize money breakdown for the men's Camel City Mile presented by Salem Sports and women's Mellow Mile presented by Mellow Mushroom will include $4000 for 1st place, $2000 for 2nd place, $1000 for 3rd place and $500 for 4th place. In addition, there will be $1000 facility record bonuses if the winner breaks the existing facility records, which currently stand at 3:57.81 for the men and 4:35.07 for the women.
"We are extremely appreciative of the generosity of Jeff Ickes of Salem Sports and Jim Waters of Mellow Mushroom for their support of these races and of the elite athletes who will be competing. They have raised the bar for this event and will allow us to get some of the top Milers in the country with these awards," added Craig Longhurst.
Since 2012, the Camel City Mile has been a part of the Bring Back the Mile national campaign to elevate and celebrate the storied distance.
In the men's and women's 800m and 3000m races, the current prize money breakdown is $2000 for 1st place, $1000 for 2nd and $500 for 3rd. All four of these races will also have facility record bonuses of $1000.
JDL Fast Track is still seeking corporate sponsors to further assist in raising additional prize money for the other races, or to allow additional prize money races to be added to the schedule. Additionally, JDL Fast Track will soon begin their Camel City Crowd Fund efforts to allow fans a chance to have dinner with the athletes at a post-race party. Longhurst indicated that efforts are underway to identify some top U.S. athletes to headline the event. Last year, Nick Symmonds, Phoebe Wright, Heather Kampf and Maggie Vessey were all competitors at the event.

About JDL Fast Track
JDL Fast Track, one of the premier indoor track and field facilities in the southeast, is a privately owned, dedicated indoor track & field facility, which opened in January 2012, houses a 200 meter oval track with a Mondotrack FTX surface—the same surface used at the 2012 Olympic Games in London. JDL Fast Track has current seating capacity of approximately 1,700, with future expansion possibilities more than 3,000.
JDL Fast Track will play host to multiple NCAA Division I and Division II conference meets in 2015, as well as serving as the host for the NCAA Division III Indoor Track & Field Championships and USATF Masters Indoor Track & Field Championships.