2015 IAAF World Championships Preview: Men's 1500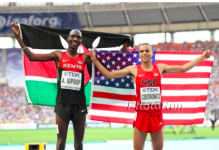 August 19, 2015
In assessing candidates to take down Asbel Kiprop, it makes sense to start with the two men who have handed him losses in the 1500/Mile this year: Ayanleh Souleiman of Djibouti and Matthew Centrowitz of the USA, who went 1-2 ahead of Kiprop at Pre.
From LetsRun.com
We're living in the golden age of the men's 1500. With two world titles and an Olympic gold, Asbel Kiprop is one of the all-time greats and his 3:26.69 in Monaco, where he became just the third member of the 3:26 club, was nothing short of outstanding. But it's the depth behind Kiprop that makes the event what it is right now. Six men broke 3:30 in that race in Monaco, the most since…last year, when seven men turned the trick at the same meet. Prior to last year, there had never been a race where more than three men had broken 3:30. Heck, there had never been a year in which more than four men had broken 3:30! Now we've got guys running 3:29 and finishing sixth or seventh in a single race.
The competition for the medals at the IAAF World Championships in Beijing will be fierce, but one man is clearly the favorite, and that's Kiprop. Seven years ago, Kiprop was robbed of his moment of glory in the Bird's Nest by drug cheat Rashid Ramzi. Though he stood on the podium after the race, it was the national anthem of Bahrain, not Kenya, that played during the medal ceremony. The disk around his neck was silver, not gold. Ramzi was stripped of his medal in November 2009; it took two more years for Kiprop to finally receive his gold.
Kiprop will be hoping for a simpler and more enjoyable golden outcome this time around – to actually cross the finish line first and get to celebrate and enjoy the adulation of millions. The 26-year-old is in the shape of his life, and as his last two races on the Diamond League circuit proved, he can win in any kind of race. In Monaco on July 17, he took the lead from the gun and simply decimated a world-class field, producing a mesmerizing 3:26.69 to win by over two seconds. In the Emsley Carr Mile the next week in London, Kiprop dropped to the back of the pack just before 800m after momentarily stumbling but worked his way up to the leaders by the bell lap and destroyed everyone in the home stretch to win in 3:54.87.
Continue reading at: letsrun.com