40-year-old sets record with sub-4 minute Mile at Vanderbilt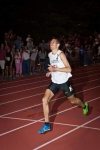 June 05, 2012
By Alex Cate, The Tennessean
NASHVILLE, Tenn. - Vanderbilt was the site of a world record-setting running performance Saturday.
Anthony Whiteman of Great Britain became the first man at least 40-years-old to run a sub-4 minute Mile outdoors.
Whiteman, 40, completed his Mile with a time of 3 minutes, 58.79 seconds at the Music City Distance Carnival held at Vanderbilt.
The only other man of that age to run a sub-four-minute Mile was Eamonn Coghlan of Ireland in 1994. Coghlan holds the indoor world record with a time of 3:58.13, which he completed at Harvard University in Cambridge, Mass. at the age of 41.
Continue reading at tennessean.com