5 Minutes with Samantha Nadel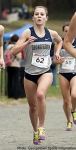 October 29, 2013
Two-time Millrose Games high school Mile champion and Georgetown sophomore overcomes a summertime injury to lead the highly ranked Hoyas through the first half of the XC season.
By John A. Kissane for Running Times
A three-time high school All-American, Samantha Nadel enjoyed an outstanding career at North Shore High in Glen Head, N.Y. As a precocious ninth grader she authored a national freshman record of 17:15.38 in the indoor 5000m and three years later captured the 2011 New York State Class B Cross Country Championship before going on to a 10th place finish at Nike Cross Nationals. In between were dozens of race victories and high national rankings. Neal Levy, head coach at North Shore, eschews high intensity speed work throughout the year and kept Nadel and her Viking teammates on a diet of hilly road runs and frequent strides on top of a substantial distance base, without any traditional interval work. On that regimen, Nadel became two-time Millrose Games high school Mile champion and New York State runner-up at 1500m and 3000m.
At Georgetown, Nadel had a solid freshman year that included running fourth to sixth on the Hoyas cross country team, qualifying for the 2013 World Junior Cross Country Championships, and nabbing a fifth-place finish in the 5,000m at the Big East outdoor championships. This fall the sophomore has stepped things up to finish first for the Hoyas at two meets, helping propel Georgetown to a No. 3 ranking heading into the Big East conference championships on Nov. 2. Ranked sixth in the pre-season coaches' poll, the Hoyas have moved up three spots following victories at the Oct. 5 Paul Short Invitational and the Oct. 19 Wisconsin Invitational. A spirited battle with #4 Providence promises to make the Big East meet one to watch
Continue reading at: www.runningtimes.com