5 Questions with Jordan McNamara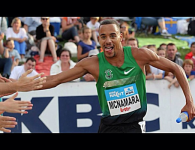 August 05, 2013
By Pat Price, The Daily Relay
Welcome back to 5 Questions, where we pick the brains of people from all areas of the running scene. We didn't have any 5QW's last week, so we'll have two this week! Today, we were lucky enough to catch up with Jordan McNamara. Check out Jordan's blog and follow him on Twitter @JordanMcNamara and Instagram.
1. Daily Relay: Congratulations on the big PR in London. What was it like running your first Diamond League race in Olympic Stadium?
Jordan McNamara: I think every young runner dreams of stepping onto a track, looking up, and seeing a sea of faces looking down. Running in such a prestigious venue, in front of 65,000 spectators was without a doubt the highlight of my running career. When I finally got onto the track and looked around, tears came to my eyes- such was the magnificence of the moment. I'll always look back on that afternoon in London with gratitude that I was given the chance to show my ability on such an incredible stage.
2. Daily Relay: It's been a summer full of PR's for you with 3:34.00 in the 1500 and 3:52.42 in the Mile. What's been the big reason you think you're running so well right now?
Jordan McNamara: Many people are surprised at my successes this summer. I'm not one of them. Throughout the fall and winter, I suffered in training and make smart decisions every day. Though I hit obstacles, I persevered with a positive, determined attitude. I simply wouldn't give up. By early spring, my workouts were starting to show a new level of fitness. Despite this, I struggled to have things line up on race day. My amount of sacrifice would often compound my nerves, leaving me unable to control my focus once the gun sounded. Ultimately, I wasn't enjoying my running. I knew how hard I'd worked, and instead of letting that work show naturally, I placed unnecessary stress on myself; stress that clearly manifested during the most important moments.
I attribute my recent season to events not recent. To put it simply, I started working for these achievements years ago; during 15 mile night runs, early-morning weight-room sessions, and countless miles spent in quite solitude. Since I was 14, I've dreamed of becoming great. I wasn't always the most naturally gifted, but I was driven to succeed, no matter how long it took.
Continue reading at: dailyrelay.com