5 Questions with North Carolina Outdoor Mile Record Holder: Ken Popejoy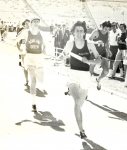 July 20, 2016
Cross country "strength is essential. Also, the end of a race speed is 'make or break' for success" for the Mile.
From Sir Walter Miler
It had been some time since anyone got close to Ken Popejoy's North Carolina outdoor Mile record. In 2014, Ford Palmer took the title in 3:57.61, and in 2015, Robby Andrews ran 3:57.38. Close, but Popejoy's 1973 record of 3:57.3 has remained intact. Will 2016 be the year the Stiner State Record Bonus (sponsored by Stiner Massage) gets paid out? We'll find out in a few weeks at the 2016 Sir Walter Miler, but in the meantime, we caught up with THE Ken Popejoy to discuss the record and his career as a Miler.
5 Questions with Ken Popejoy
1. Sir Walter Running: Your 3:57.3 from Martin Luther King Games in Durham on May 12, 1973 still stands as the North Carolina State Record. What do you recall from that day?
Ken Popejoy: Here are the exact notes in my training diary about the race, with parenthesis added today: Saturday, May 12th: 5th Annual Martin Luther King Games – 1 Mile Run – 3:57.3 (60 / 2:02 / 3:02.5….closed in 54.8!) WOW. I don't know how I did it. I felt as bad as I did at Drake (4:14, 4/21/73) but this time, I just didn't give up after the confidence earned from last week's Big 10 Mile record run! Ran in 4th the whole way. Moved with 220 to go, passed (Bob) Wheeler (Duke) and (John) Hartnett (Villanova). Stayed behind (Reggie) McAfee until final straightaway, then kicked. Really didn't think that I would win until I got even with Reg. Actually coasted last 30 yards with pumping arms and huge smile. Could have EASILY run sub-3:56! Warm down in Duke Gardens. Unbelievably beautiful campus!
Continue reading at: http://sirwaltermiler.com