5 Reasons to Run Outside All Winter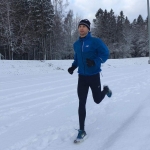 January 01, 2020
How to think of winter not as an obstacle but as a training tool to make you stronger, tougher, healthier and happier
By Jonathan Beverly, PodiumRunner.com
In the winter of 1939, when the military posted Swedish Miler Gundar Hagg to the far north of that nordic country, he devised a unique training program of running on trails through knee- or hip-deep snow. Most days he would do 2500 meters in snow for strength, followed by 2500 meters on a cleared road for turn-over. But during those times when he couldn't find cleared roads—sometimes for weeks—he'd run up to the full 5K in snow. The next summer he set huge PRs, coming within one second of the Mile world record.
Hagg continued his routine in subsequent winters, devising a hilly 5K loop in a different locale that trudged through snowy forest for 3000 meters then ended with a 2000 meter stretch of road where he could run at full speed. He kept improving, and the summer of 1942 he set 10 world records between 1500m and 5000m.
While Hagg's routine was created out of necessity, he obviously valued the snowy training. When he moved to a city with a milder climate, he wrote in a training journal, "It will be harder running than any previous year. Probably there won't be much snow." And every winter he scheduled trips north to train on the familiar, tough, snowy trails.
Hagg isn't the only runner who has found winter training valuable. Roger Robinson, who raced internationally for England and New Zealand in the 1960s before setting Masters road records in the 1980s, recalls his training for the deep-winter English cross country championships of the 1950s and 60s. "We ran, often at race pace, over snow, mud, puddles, deep leaves, ploughed fields, scratchy stubble, stumpy grass, sticky clay, sheep-poo, whatever, uphill and down," Robinson says. "And thus, without going near a gym or a machine, we developed strength, spring, flexibility and stride versatility that also paid off later on the road or track; I made one of my biggest track breakthroughs after a winter spent running long intervals on a terrain of steep hills and soft shifting sand."
Robinson, now 80, with two artificial knees, still runs in the cold and slop. "Running is still in great part about feeling the surfaces and shape of the earth under my feet," he says.
Hagg and Robinson are of a different generation than those of us with web-connected treadmills that can let us run any course on earth from the comfort of our basement, but they're on to something we might still benefit from: Winter can be an effective training tool. Here are five reasons you'll want to bundle up and head out regardless of the conditions, indeed, why you can delight when it is particularly nasty out.
1) Winter Running Makes You Strong
As Hagg demonstrated and Robinson points out, winter conditions work muscles and tendons you'd never recruit on the smooth, dry path. A deep-winter run often ends up being as diverse as a set of form and flexibility drills: high knees, bounds, skips, side-lunges, one-leg balancing and more.
Bill Aris, coach of the perennially-successful Fayetteville-Manlius high school programs, believes that tough winter conditions are ideal for off-season training that has the goal of building aerobic and muscular strength. He sends the kids out every day during the upstate New York winter, and says they come back, "sweating, exhausted and smiling, feeling like they have completely worked every system in their bodies."
2) Winter Running Makes You Tough
No matter how much you know it is good for you and that you'll be glad when you're done, it takes gumption to bundle up, get out the door and face the wintry blast day after day. But besides getting physically stronger, you're also building mental steel. When you've battled snow and slop, darkness and biting winds all winter, the challenges of distance, hills and speed will seem tame come spring.
"If you have trained in deep snow, or battled up a slippery hill into freezing sleet, or lifted your feet out of sticky clay for an hour, the race can hold no fear," Robinson says. "If you do real winter training, Boston in April can throw nothing at you that you have not prepared for."
Continue reading at: podiumrunner.com