60 years later, Miracle Mile still resonates with Keffri Neal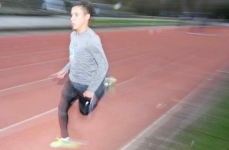 July 10, 2014
NCAA runner at Kentucky: "Everyone still talks about the 4 minute Mile at the college level."; Miracle Mile tribute race at Harry Jerome meet, 60 years after the epic 1954 event at Empire Stadium

By Steve Ewen, The Province
Keffri Neal is all of 21-years-old and he can speak eloquently about Roger Bannister and John Landy and their duel at the 1954 British Empire Games at Empire Stadium.
The sub-4 minute Mile has that kind of meaning, even 60 years later.
"Everyone still talks about the 4 minute Mile at the college level," said Neal, a Surrey native who just wrapped up his junior year with the University of Kentucky track team and will be one of the competitors for the Miracle Mile tribute that's part of the Harry Jerome Track Classic on Thursday at Swangard Stadium.
"Maybe not as much at the pro level, but at the college level they do. People have done it, but not that many."
The story is well known. Bannister broke the 4 minute barrier first on May 6, 1954, Landy bettered the standard six weeks later in Finland. Vancouver brought the head-to-head matchup. Both went under 4 minutes again - the first time ever in the same Mile race. Bannister, surging past Landy on the right while Landy was looking left, won the race in the late stages.
A bronze statue at the PNE pays homage to the moment.
Continue reading at: www.theprovince.com