A Day in the Life: Pro Athlete Heather Kampf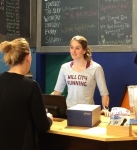 April 29, 2016
Pro athletes - they're just like us! Juggling family, work, friends and trying to eat all their fruits and veggies.
From Twin Cities In Motion
Ever wonder what professional runners do all day? Us too! So we were excited when Heather Kampf, our Medtronic TC 1 Mile defending champion, gave us a glimpse into what it's like being the Queen of the Road Mile.
Heather's Day - Tuesday, April 19
6:31am - Good morning! Ben, my husband, has this weird thing about waking up on odd numbers or 5s, so we get up at 1s, 3s, 7s, and 9s...I have just adopted the habit to humor him!
The first thing that I do when I get up is that I always turn the alarm off on my phone and check the weather. Even if I'm not running right away in the morning, I like to know what to expect for walking our dogs. I took Ellie and Dewey out right away for our usual "Park Loop" - it's a 3/4 mile little jaunt around a nearby school/playground, and it's a nice way to get my legs awake in the morning. Especially this time of year when all the squirrels are out and active, the dogs love chasing them around, making the walk into a "fartlek" or sorts!
Continue reading at: www.tcmevents.org