A Father's Focus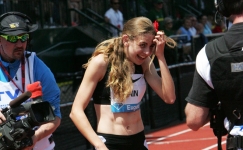 June 02, 2013
By Doug Binder, Armory Track
Dr. Charlie Cain sat in an empty row at Hayward Field, Alysia Montano's red orchid tucked carefully into his shirt pocket, still trying to process the Prefontaine Classic here on Saturday afternoon when his precocious daughter Mary set another remarkable record.
His cell phone rang. It was his father — Mary's grandfather — calling from New York.
"Can you believe that!?" Dr. Cain said.
People all across the country were saying that all weekend.
Mary Cain's father, who works across the street from The Armory at New York-Presbyterian Hospital, is becoming well-versed in the world of elite track and field while also being a careful parent.
"It's my job to help her maintain perspective and keep her grounded," he said.
Not an easy task. Mary Cain has become a streaking comet in U.S. track and field in 2013 with a string of national high school records that began with the New Balance Games Mile on the Armory track in January.
Continue reading at: armorytrack.com