A middle-distance relationship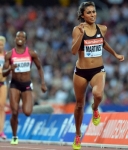 August 14, 2013
Brenda Martinez has been coached by phone or email to become one of the best in the world in 800. Now she has a chance to win the first World Championship medal for a U.S. woman in the event.
By Helene Elliott, Los Angeles Times
Brenda Martinez wasn't ready to give up her running career after earning all-America honors three times at UC Riverside, but the running community seemed ready to give up on her.
The Rancho Cucamonga native struggled while seeking a training situation that would develop her potential. Rejected by two running groups, Martinez and her husband-turned-coach, Carlos Handler, didn't know where to go.
Handler took a chance and contacted renowned coach Joe Vigil, who lives in Arizona when he's not conducting clinics around the world. Vigil, who helped guide Meb Keflezighi and Deena Kastor to 2004 Athens Olympic marathon silver and bronze medals, respectively, was intrigued enough to meet Martinez and Handler while visiting Los Angeles.
"I saw how intent she was on becoming a good runner," Vigil said, "so we started talking about what it takes and I asked her if she would be willing to commit the effort, because I've had medalists in the Olympic Games and World Championships before and I know what it takes. And she seemed like she was very sincere in saying yes, I'll do what it takes."
Although Vigil and Martinez rarely work together and have communicated mainly by phone or email the past two years, she has kept her promise. The result has been a breakthrough season and a chance to make U.S. running history.
Since moving to Big Bear for altitude training — one of Vigil's requirements — Martinez, 25, has become a medal contender in the 800 at the World Championships, which began last week in Moscow. The career-best time of 1 minute, 58.18 seconds she ran in June ranks fifth in the world this season; Francine Niyonsaba of Burundi, who ran the two fastest times, withdrew because of an injury. Martinez will run her first heat late Wednesday Pacific time, Thursday morning in Russia.
No American woman has won a world championships medal in the 800, but Martinez and Alysia Johnson Montano of Canyon Country — whose 1:57.75 ranks fourth in the world this year — could change that. The achievement seemed impossible when those running groups rejected Martinez a few years ago.
Continue reading at: www.latimes.com