A prodigy's teenage career at an end, are world records on the horizon?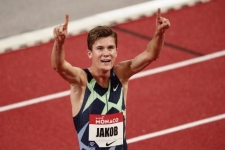 September 23, 2020
Norway's Jakob Ingebrigtsen has produced impressive world class times and performances as a teenager, including a 3:51.30 Mile
By Mathis Brorstad, SportInDepth.com
One of the most scrutinized teenagers in the history of distance running, Jakob Ingebrigtsen of Norway, just celebrated his 20th birthday. His last race as a teenager was a stunning 3000 meters, where he came close to setting a new European record, but was beaten into second place by fellow teen phenom Jacob Kiplimo of Uganda.
Jakob is part of an exceptional feel-good story of three brothers, Henrik, Filip & Jakob who, despite coming from a Northern European country better known for producing athletes racing on snow rather than tartan tracks, have managed to break into the world's elite middle distance ranks.
All of them became European 1500 meter champions in the span of six years, with Henrik winning in 2012, Filip in 2016 and Jakob in 2018. They are coached by their self-taught and outspoken father, Gjert, who has no formal coaching education.
You can follow their exploits in the documentary TV-series "Team Ingebrigtsen".
Jakob has been making headlines in his native Norway for almost a decade. Ten years ago, when Jakob was ten, he ran 29:56 for 8K. Around this time a university professor obtained permission to test Jakob's VO2 max and threshold running pace at the University of Stavanger.
VO2 max is widely used as an indicator of cardiorespiratory fitness, and threshold running pace is the fastest pace you can run without generating more lactid acid than your body can utilize and reconvert back into energy. Both are widely used benchmarks in the world of sport science.
Considering Jakob's age of 11, his VO2 max of 68 ml/kg/min and threshold pace of 15.6 km/h were stunning figures and led to him being tested regularly.
Jakob Ingebrigtsen has achieved spectacular results as a teenager. He is the European record holder in both the 1500 and 2000 meters. He is one of the nine all-time fastest runners in three events: the 1500, 2000 and 3000 meters, and one of only three athletes ever to have run faster than 3:29 for 1500 and faster than 7:28 for 3000. Considering that the two others are legends Hicham El Guerrouj and Noureddine Morceli, it highlights the magnitude of his teenage achievements.
Jakob has been widely discussed on the forums of websites like LetsRun.com and Track & Field News.
His supporters have been told off for celebrating races he did not win and it has been pointed out that Jakob hardly ever wins against top notch competiton and that even if he has many successes on the continental level, he has never won a global championship not even at the Junior level.
It has been claimed that the reason Jakob rarely wins is that he lacks grit and the ability to dig deep and that his perceived lack of speed means he is unlikely to do well in championship races.
Furthermore it has been argued more or less every year for the last few years that Jakob has peaked already and will not improve further. That because he started training very seriously at an earlier age than most elite athletes, he is bound to reach his peak early in his career.
I can easily see where some of this is coming from. A valid question is if Jakob Ingebrigtsen would have attracted the same level of attention if he had come from any of the countries that have dominated middle distance running after the era of Ovett, Coe and Cram?
It is easy to assume that Jakob has attracted the attention because people see him as some kind of "great white hope" in an event which has been dominated by runners of African descent the past decades.
Continue reading at: sportindepth.com