A Record Goes Bust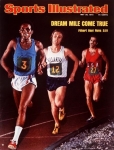 May 26, 1975
Sprinting away from a classy field in Kingston, Jamaica's Dream Mile, 21-year-old Filbert Bayi of Tanzania broke Jim Ryun's 8-year-old world record to clearly establish that he is the King of the Milers
By Ron Reid, Sports Illustrated
It was a world record performance that defied logic, a set of stopwatch numbers that hardly seem real. Yet it stands there, irrefutable: a 3:51 Mile run last Saturday night in Kingston, Jamaica by Filbert Bayi of Tanzania. Bayi broke Jim Ryun's 8-year-old world record of 3:51.1—Ryun also held the second best mark of 3:51.3, and no one else had ever bettered 3:52—and in so doing triumphed over tactics, training, fatigue and the most formidable field of competitors since the Olympics.
Bayi led wire-to-wire, opening a gaping lead early, then losing nearly all of it, then opening up again to win by 10 yards. He did it despite a 23-hour plane trip from Africa to Jamaica via Rome, London, Montreal and New York, which landed him in Kingston 48 hours before the race. And he did it despite a heavy workout the day before the meet. Halfway through the race Bayi twisted around in a sort of golfer's follow-through for a look back at his opposition, possibly to see what other traditional rules of running he could violate.
For a middle-distance runner of merely superb ability, any of these factors might have been enough to deny victory, let alone a world record. But the 21-year-old Bayi is extraordinary and he turned the Dream Mile, as it was billed, into vivid reality for a crowd of 36,000 in sultry National Stadium.
It was somehow suitable that Bayi's remarkable triumph should occur in the International Freedom Games, an itinerant track meet held in memory of Dr. Martin Luther King and promoted by a Philadelphian named Bert Lancaster, who had previously staged it in such widely separated sites as Philadelphia and Oslo. Lancaster is slightly less organized than a Woodstock seating chart, but somehow, year after year, to the envy of rival promoters, he delivers the athletic goods in quality.
For $7,100 in expense money Lancaster got Bayi, along with two Tanzanian teammates, to come to the Caribbean, and then filled out the field with just about every top Miler in the world except New Zealand's John Walker and Kenya's Ben Jipcho, the professional. Running against Bayi were Marty Liquori, the former Villanova star whose best previous Mile (3:53.6) had come in the 1973 King Games; Eamonn Coghlan, the young Irishman who is Villanova's current ace; Rick Wohlhuter, the 880-yard world record holder; Tony Waldrop, the indoor Mile world record holder (3:55); Reggie McAfee, formerly of North Carolina, another sub-4 minute Miler; Walter Wilkinson of England and Sylvan Barrett of Jamaica.
Chances for a scintillating race, possibly a world record, were heightened when nearly everyone but Bayi and Waldrop said he planned to shoot for a fast time. With this tactics-be-damed attitude came speculation about Bayi's celebrated penchant for front-running, which the others assumed would pull them to their best efforts.
Bayi, however, was secretive. "I don't know whether I will lead or not," he said after he arrived in Kingston and immediately went shopping for record albums. "I know they would like me to go ahead, but I don't know yet what tactics I will use. I will try to watch the pace."
Continue reading at: sportsillustrated.com
Mile world record progression HERE.