A tribute to the career of Gunder Hägg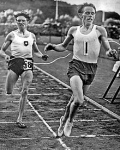 November 28, 2004
Swedish running legend set the Mile world record three times and with countryman Arne Andersson, the duo approached the "magic" 4-minute mark
By Lennart Julin for the IAAF
Renowned Swedish Athletics historian and statistican Lennart Julin gives his own personal tribute to the life and career of Gunder Hägg, who set the Mile world record three times in the early 1940s.
Usually it takes a number of Olympic gold medals to achieve the status as a true legend of our sport but Swedish runner Gunder Hägg - who on Saturday passed away at the age of 85 - belonged to a very select group of extraordinary athletes who have managed to become icons despite lack of Olympic success.
The athletic career of Gunder Hägg was such that had he been born in the USA it would – without the need for any additions to the bare facts – certainly have been used as script for a sentimental Hollywood film because the story contained just about every element of drama, emotion, success and failure needed.
It all began on New Year's Eve 1918 when Gunder Hägg was born on a small farm in the forests of northern Sweden. From a fairly early age he had to help out on the family farm where the main income came from timber work. His school was three kilometers away a distance which he walked, ran or traveled by ski (in the winter) every day.
Continue reading at: www.iaaf.org