Adidas Dream Mile Announces Top Prep Invites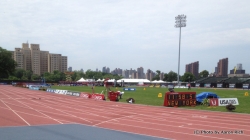 April 10, 2013
By Aaron Rich, MileSplit
adidas Dream Mile 2013 top entrants
Bernie Montoya (AZ) was the race champion last year and boasts a personal record of 4:01.32, set while winning last year. Bernie recently ran a 3200m PR to finish as the runner-up at Arcadia in 8:47.07.
Andres Arroyo (FL) will be appearing in the adidas Dream Mile for the first time and has been on a tear this outdoor season, running a solo 1600m in 4:04.45 and then a mind-blowing 1:47.79 for 800 meters at the recent Florida Relays.
Wesley Frazier (NC) has qualified for this race for three straight years, culminating in a PR of 4:42.78 when she finished 5th last year. Recently she won the 5000m at the NBNI with a national record time of 16:18.01 and the 2 Mile in 10:12.23.
The adidas Dream Mile will be contested on Saturday, May 25 at Icahn Stadium, New York, NY. More at: milesplit.com