Alan Webb Plans Move to Longer Track Races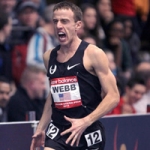 January 15, 2013
U.S. Mile record holder says it's time to focus on 5000 and 10,000m.
By Peter Gambaccini, Runner's World
"I'm just trying to keep things low-key, [and] didn't feel it was necessary to make a big deal about anything," explains U.S. Mile record holder Alan Webb in a Flotrack interview. Which is why there's been little fanfare about his training in Portland with Jerry Schumacher's Oregon Track Club group. That cadre includes sub-13:00 5K runners Matt Tegenkamp and Chris Solinsky (who is also the first American to go under 27:00 for a track 10K) and U.S. steeplechase record holder Evan Jager.
"It's just been great to have these guys to run with, these are the big boys," observes Webb, who says the longer track distances, the 5000 and 10,000 meters, will be his competitive emphasis as he's "recognizing that maybe my time has come to shift focus [from the middle distances]. Maybe it should have clicked earlier."
Continue reading at: runnersworld.com