Alan Webb's Race Against Time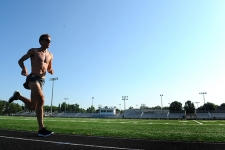 June 26, 2012
Alan Webb, who broke the four-minute-mile barrier in high school, failed to qualify for this year's Olympics.
By Scott Cacciola, The Wall Street Journal
Alan Webb caught himself looking at a list not long ago. It was a list of Americans who had run four-minute miles, and he noticed that it had grown exponentially since he first eclipsed that barrier as a high-school senior in 2001.
At the time, Webb was already emerging as one of the biggest stars that track and field was capable of producing in this country, a teenage prodigy who seemed to obliterate records every time he laced up his racing spikes. There was something about his youth and all that ridiculous potential that appealed to the public: How fast could he go? How dominant could he be? How many Olympic medals could he win? His future practically glistened.
Continue reading at wsj.com