Alexander, Metzger Tops in Mile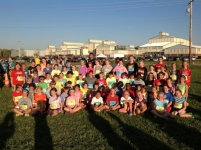 October 11, 2013
First Elementary Cross Country Mile draws 79 runners
By Scott Davidson, Stacy Page
WARSAW – A total of 79 runners took part Thursday evening in the first Elementary Cross Country Mile.
The race, open to boys and girls in grades 3-6, was put on by the WCHS girls and boys' cross country programs.
The event, which included awards sponsored by the Warsaw Breakfast Optimists' Club, was held at the new cross country course at WCHS.
Taking top honors on the boys' side were Jace Alexander for grades 5-6 and Dominie Blair for grades 3-4. Alexander had the top time among all runner at 6 minutes, 13 seconds. Blair won in a time of 6:33.
Continue reading at: www.staceypageonline.com