An Open Commentary to the Sport and Max Siegel, New USATF CEO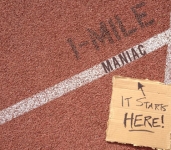 May 19, 2012
Let's stop being masochists, let's become fans again
By David Monico, Bring Back the Mile
As a track & field fan, which I define by asking my family for tickets to the 2000 Olympic Trials for Christmas as an 18-year-old, trips to NCAA Conference Championships, a paying viewer of Diamond League meets on Universal Sports, and the countless hours reading Track & Field News, LetsRun.com and watching videos on FloTrack and RunnerSpace, I can't help but leave one of the greatest events in my lifetime and feel deflated.
Last night I spent three hours in Los Angeles traffic, excited like a kid in a candy store. Stupid cars, get out of the way, I'm at least not going to miss the last heat of the steeplechase. And I didn't get home till well past one in the morning. Why? Because the USATF Oxy High Performance Meet assembled one of the greatest four hours of distance running I've had the opportunity to witness. 18 U.S. Olympians, another eight Olympians from other countries (I'm sure I'm missing one or two), two World Champions, one Olympic Medalist, the list goes on and on. Racing at its finest, the quest for Olympic "A" Standards, a thunderous crowd, festive atmosphere with sponsor banners galore, surely all would be present.
OK, I'll admit, going into it I knew what I was getting into. The meet itself was setup as a night of time trials. Am I still making the trip? Absolutely. But that's part of the problem. In essence, Track & Field does not have track fans. It has a group of unapologetic masochists. We sit through heat after heat; long pauses between them; and all without, god forbid, a beer garden that is all too expected at any other professional sporting event, let alone one with the caliber of athletes present last night.
What about the professional athletes? Surely there would be nice pools of prize money to be awarded for top performances. Nothing. I saw nothing. Heck, the USA 1 Mile Road Championships the night before gave away $4000 to the winners and they didn't even break 4 minutes (Men) or 4:30 (Women). Tenth place walked away with $50. With one World Champion present, let alone two, you could get at least a couple thousand dollars in sponsorship money just by throwing a rock at any window in downtown Glendale, not to mention the damage you could do from the downtown LA firms or agencies on Wilshire Boulevard.
Surely there would also be sponsors, news reporters from TV, radio and print, journalists from at least the Los Angeles Times. Again, nothing. I saw nothing. Worse, USATF.org didn't even mention their own High Performance meet on its home page. Unbelievable and sad. What other sport would allow their top athletes to go without any press beyond the choir below?
Right now, everyone should send LetsRun.com, FloTrack, RunnerSpace and Track & Field News a $10 bill for the work they do to keep our sport alive (my money is in the mail fellas). Without their efforts, we wouldn't know who our athletes are, be able to watch their races, listen to or read interviews and all the crazy distance running lifestyle stuff that comes with it.

Over the last week there has been internet discussion over how to help our sport or what's wrong with it. Is Track & Field a dying sport (RunBlogRun.com / BBC)? Well, as a track fan who has trouble being a track fan at our meets, maybe it is. At least in its current dysfunctional form. Track & Field is a complicated sport for the average fan; lots of moving parts. But a night such as the Oxy High Performance Meet gives it a chance with four interconnected tweaks:
Get rid of the time trials; have the best race the best: I heard time and time again last night that this is an "athlete's meet". No other professional athlete would spend hours training and often making hard personal choices to head out for a test run. What if David Torrence was in the first heat with the drama that could have come with it? That's a press story in itself. U.S. record holder on the comeback trail (Alan Webb); USA and NCAA champions at 800 meters moving up in distance...it goes on and on. Torrence tried all he could to get the crowed pumped up post-thrilling race, but if a Track & Field athlete is loud at a meet, does anybody else really hear it?

Professional athletes should be treated as professionals: Our athletes are "professional" athletes, but there's virtually no money at these meets. This isn't the sport's problem; it's the problem of those who run it. Was any attempt made to secure sponsorship(s) for this meet? Road races get sponsors and prize money all the time; sometimes for events that don't have much media value or world class athletes such as this meet. On a great night of track, how can there not be one sponsor banner up or sponsor mention or event program? This deprives our athletes of potential prize money, media attention and the sponsorship opportunities that come out of it. I'm beginning to come around to the outlook of Mark Cuban on Olympic sports.

It's about the fans: I'm not asking for a full fledge party, but a track meet of this caliber should do two things. First, condense the meet in half. Make the fans leave the track wanting more, excited and with their ears ringing from the loudness of the crowd and talking about what they just witnessed. In short, make it emotional and memorable. Instead I left, went to bed and woke up feeling still more excited from the Big West Conference Championships a week prior rather than Mo Farah's historic 1500/5000 double.

Second, have a beer garden. I'm not an alcoholic, but what do I hear from almost every athlete who returns from the European circuit. "Oh man, these little meets in Europe are awesome. The entire town comes out and they have beer gardens!" Want a way to get average fans to a meet and fill the stands? Have a beer garden or at least a place for fans to gather at the meet.

Promote, promote, promote, particularly beyond the choir: Yes, it takes time and costs money, but every time our sport misses opportunities such as this star-studded meet to generate interest, media coverage and "buzz" and to tell our story, we fall further behind other sports for eyes and ears and hearts and minds. Did this meet even have a promotional and media plan?
Put simply, let's stop being masochists, let's stop the madness, let's see promotion as an investment not an expense and as important, let's become fans again. If any of the above makes sense to you or you're also feeling deflated let me know at david@bringbackthemile.com. Thank you for reading this far in my post-Oxy Meet commentary.
David Monico
BringBacktheMile.com