Athletes mark 60th anniversary of Miracle Mile at Harry Jerome meet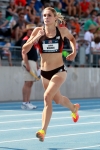 July 11, 2014
Nate Brannen, Sarah Brown win Mile; "In Canada, this is the only Mile this year...Running it a couple times (per year) keeps that magic around it." - Brannen
By Monte Stewart, The Canadian Press
BURNABY, B.C. - Roger Bannister and John Landy were nowhere to be seen at a small Vancouver-area stadium this week, but they still managed to generate plenty of excitement about an event that is rarely run anymore.
Runners from Canada, the United States, Mexico and Australia cherished the chance to compete in a rare one-Mile race Thursday night as the Harry Jerome International Track Classic celebrated the 60th anniversary of the 1954 Miracle Mile.
On Aug. 7, 1954 in the British Empire (now Commonwealth) Games at Vancouver's since-demolished Empire Stadium, Britain's Bannister and Australia's Landy became the first two runners to run a Mile in under 4 minutes in the same race. Now at Burnaby's Swangard Stadium the goal was the same: to break the coveted 4 minute mark.
Yet, despite advancements in fitness, training and technology intended to gain as many competitive advantages as possible, only three runners — two Canadians and an American — managed to duplicate Bannister and Landy's feat.
Nate Brannen, a 31-year-old Cambridge, Ont., native who now lives and trains in Dublin, Ohio, crossed the finish line first in 3 minutes 57.48 seconds. Charles Philibert-Tiboutot, 23, of Quebec City finished second in 3:57.85, while Chris Derrick of the U.S. took third in 3:59.92.
Continue reading at: http://www.timescolonist.com