Big Mile Fields at Dartmouth, Stanner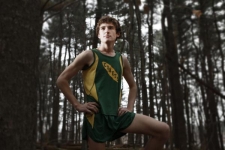 January 11, 2013
By Kyle Brazeil, MileSplit
MileSplit HQ - The most recognizable distance in the sport, it would seem the Mile has been getting the attention of some of New York's top prep atheltes. With two big Invites again splitting the state, athletes will be trying to lower that NY #1 mark of 4:16.55 set by Carmel's Eric Holt. We look at the invite's sent out to the athletes competing at the Dartmouth Relays and the Molloy Stanner Games.
Boys Mile
The top challenger for the state leading mark will come out of Darthmouth, where Rush-Henrietta's Mickey Burke, XC All-Stater, will be battling for the line. The top placing finisher at NXN for New York, he will face off against Foot Locker Finalist Christian Alvarado of CT, as well as one of our Harriers of the Week, Fonda-Fultonville's Matthew Hoffman. Teammate Brennan Root may also factor in, after a strong XC season.
A little south, in NYC, Long Island looks to take over the scene. Mike Brannigan and Chris Odin of Northport are the top seeds, with Zach Cammer of Walt Whitman right behind. Two to look out for are Jack Stevenson of Stuyvesant ,who is NY #4 in the event, and Thomas Slattery of Chaminade. Look for a field that could put four or more under 4:20.
Girls Mile
It looks to be the Armory field that shines for the girls', as the field provides a lot of great talent. A big question will be how well will sophmore Jazmine Fray of Kellenberg run. She has been on a tear all season, and put up fast times in the 800m, making her a favorite. Gianna Frontera of Newburgh already punched her ticket to Millrose, but is entered to put some more 'mileage' in. Finally, Megan Reilly of Warwick and Delphi Cleaveland of Arlington look to keep the pace honest, and all eyes will be on them in the DMR's later in the day as well.

Up north, a pair out of the Academy of the Holy Names leads the Empire State, as Kaylee Scott and Catherine Maloy lead the field. Meagan Roecker of Burnt Hills and Bellame Bower of Colonie are entered in the second heat as well.
Continue reading at: MileSplit.com