Biopsy Monday, Chemo Tuesday, Race on Saturday for Gabe Grunewald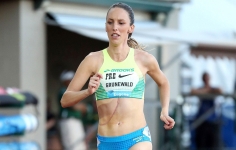 June 06, 2017
"I do feel like my story has reached a different demographic than elite runners. It's cool, overwhelming at times. It puts a little bit of pressure on me; I need to show people this is possible. But to be able to be an inspiration for people is awesome."
By Sarah Lorge Butler, Runner's World
Even while she is fighting cancer for the fourth time in eight years, elite runner Gabe Grunewald is keeping up a busy racing season—and inspiring thousands of people in the process.
This week she has a liver biopsy on Monday, begins chemotherapy on Tuesday, and plans to race a 1500 meters at the Music City Distance Carnival on Saturday night in Nashville, Tennessee. She's hoping to run a 4:09.50 to qualify for the USA Outdoor Championships later this month in Sacramento.
In a phone interview with Runner's World on Sunday, Grunewald, 30, said she had planned her workouts around her treatment. Those include a hard track session on Sunday night, an easy run early Monday before the biopsy, and a day off on Tuesday. She hopes to resume training again on Wednesday.
Grunewald was first diagnosed with adenoid cystic carcinoma in 2009 during her college years at the University of Minnesota. She had surgery, but the cancer returned in her thyroid two years later.
Continue reading at: www.runnersworld.com