Bob Day: UCLA's greatest distance runner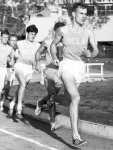 March 17, 2012
After setting the Mile mark, which stood as a UCLA school record for four decades, Day told the Times: "Competition always gives you an added lift."
By David Wharton, Los Angeles Times
It was relatively early in Bob Day's track career at UCLA and he was scheduled to race against one of the best 2-Milers in the nation. His chances of winning seemed slim, so the coach told him to focus on second place and earn valuable points for the team.
"He just kind of looked at me," former Bruin Coach Jim Bush said Thursday. "Then he went out and won … and from that day on, I never said he couldn't do something."
Over the next two years, Day established himself as the greatest distance runner in the history of UCLA's storied program, setting records in multiple events, leading the Bruins to a 1966 national championship and representing the U.S. at the 1968 Mexico City Olympics.
During his college career, from 1963 to 1966, he set school records at 1500 and 5000 meters. His times of 3:56.4 in the Mile and 8:33 in the 2-Mile were national records at the time.
Day died of bladder cancer Thursday at his home in Irvine, his wife said. He was 67.
Born Robert Winston Day on Oct. 31, 1944, the Southern California native grew up in San Marino. He worked in the healthcare industry for many years before becoming a coach at Beckman High School in Irvine, where he built the track and cross country programs from scratch.
Continue reading at: www.latimes.com