Book Review: "How to Race the Mile" by Jeff Hollobaugh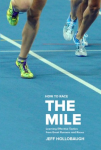 August 08, 2015
"The jewel of this book is the race history. It is a comprehensive look at the event from the 19th century to the present. Drawing on over 50 races from the professional and collegiate ranks, Hollobaugh dedicates each chapter to a specific style of race."
By Jonathan Gault, LetsRun.com
If, like me, you're a track nerd, you know that most of the time the story of a distance race can't be distilled down to a simple results page. In the field events, athletes compete against one another, but in reality, they're competing against an obstacle. How far can I jump while taking off before this line? How high can I jump over this bar? In the high jump and pole vault, strategy can come into play as athletes decide which heights to pass, but that strategy can be summarized neatly in the results at the end of the competition. Even in sprint races, athletes don't have to worry about the competition nearly as much as their own bodies. Because sprint races are run in lanes, an athlete's tactics can be entirely devised prior to to the race: whatever strategy enables them to get to the finish line fastest is the best one, as sprinters cannot limit the speed of their competitors.
A distance race is a different beast. Every competitor shares the same track, and the decisions one athlete make during a race can have a major impact on how others run. It's a fluid ecosystem; race dynamics are constantly changing.
Veteran track and field journalist Jeff Hollobaugh has long been fascinated by the how and why of races, particularly when it comes to his favorite event, the 1500/Mile.
Continue reading at: letsrun.com