Bowden passed test with first U.S. sub-4:00 Mile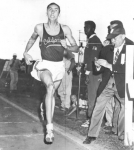 September 06, 2005
My coach, the legendary Brutus Hamilton, said, "Let's give it a try and see if you can do it."
By Paula Parrish, Special to The Record
His face, when he crossed the finish line 48 years ago, could have come straight out of "Happy Days." Even when he was straining on his last steps to become the first American to break the 4-minute Mile, Don Bowden looked like he lived right next to Richie Cunningham -- innocent, fresh-faced, boy-next-door.
It was 1957, a time of unquenchable optimism inAmerica. The Greatest Generation had survived the Great Depression and driven back Hitler, one of the most horrific madmen the world has known, along with Imperialist Japan. What couldn't we Americans do? What couldn't we accomplish, if we simply tried? The space race was about to begin. Race relations were just starting to heat up, with the civil rights movement in its infancy.
Elvis was just ascending his throne. Even with fears from the Cold War looming, middle-class America was blossoming while watching "I Love Lucy" and "Gunsmoke." G.I. Bill college graduates were jumping on career tracks everywhere, in everything from industry to science and politics.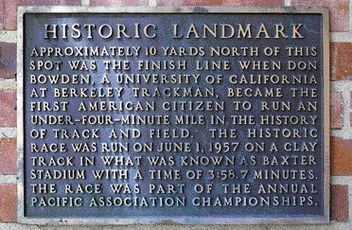 In sports, America's national pastime was still baseball, with Mickey Mantle and Willie Mays, and Brooklyn fans mourning the loss of the Dodgers to Los Angeles.
In track & field, Briton Roger Bannister had broken the 4-minute Mile on May 6, 1954, clocking 3:59.4. For the next three years, no American could mirror that feat. Then, Don Bowden, a 20-year-old middle distance runner at Cal, stepped onto the track at Baxter Stadium where the northwest side of the University of the Pacific campus is today for the Pacific Association-AAU meet.
"No American had run it, so there was always a lot of talk about why not and when it was going to happen," Bowden, now 69, said by phone from his home in Saratoga.
Bowden remembers that cool Stockton summer evening clearly.
"It was June 1, 1957," Bowden said. "I had just driven to Stockton after taking a final exam. I was primarily a half-miler, that was my best event.
"But this was my last chance to run the Mile, because from there on out, I would be concentrating on the half-mile. My coach the legendary Brutus Hamilton said, 'Let's give it a try and see if you can do it.'"
Continue reading at: recordnet.com