Bowden to Enter Pac-12 Hall of Honor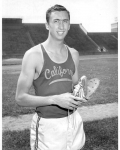 March 09, 2020
Cal track star & 1956 Olympian was first American to run sub-4 minute Mile
SAN FRANCISCO – Former Cal track great and first American to run a sub-4 minute Mile, Don Bowden will be inducted into the Pac-12 Hall of Honor at the Pac-12 Men's Basketball Tournament in Las Vegas on Friday, March 13.
Bowden arrived at Cal in the fall of 1954 out of Lincoln High School in San Jose, where he had set the national high school record in the half mile, running 1:52.3. He continued to excel at the distance as a Golden Bear under head coach Brutus Hamilton, setting an NCAA mark of 1:47.2 in 1957 when he captured the national championship and helped Cal to a runner-up finish at the NCAA meet.
Later that spring on June 1, 1957, Bowden entered a Pacific Association AAU meet in Stockton, Calif., where he and his coach decided he would try the Mile distance. After taking an economics final exam at 1:00pm earlier in the day, he made the 75-mile drive to Stockton and arrived about an hour before the race. Though exhausted from his classwork and a long collegiate season, Bowden mustered the energy to move into the record books. With a 58.1 final quarter mile on the cinder track, he crossed the line in 3:58.7 to become the first American to break the 4 minute barrier and 12th man overall. At 20-years-old, he was the youngest person in the world to accomplish the feat at the time, and his mark held up as the Cal record for another 50 years!
Bowden's accomplishments on the track extended well beyond that notable race. He and his Cal teammates set world records in the 2-Mile relay and the sprint medley relay in 1958, while individually, he set school records in the 800 yards, 1500 meters and Mle during his career. In addition, he placed seventh in the 1500 at the 1956 NCAA meet and was fourth in the Mile in 1958. Bowden also earned a place on the U.S. Olympic team in 1956, competing in the 1500 meters.
Following graduation, Bowden worked for many years at 3M and helped develop the tartan track, the first artificial running surface for track & field. He was inducted into the Cal Athletic Hall of Fame in 1987 and into the USA Track & Field Hall of Fame in 2008.
From 2002-17, the Pac-12 celebrated its men's basketball legends by inducting an annual class of standout coaches and student-athletes into the Pac-12 Hall of Honor. Starting in 2018, the Hall of Honor pivoted to feature legendary figures from an array of sports to be inclusive of the broad-based athletics success celebrated in the Conference of Champions.

Previous Golden Bear inductees into the Pac-12 Hall of Honor are:
2002 – Pete Newell
2003 – Kevin Johnson
2004 – Jason Kidd
2005 – Darrall Imhoff
2006 – Andy Wolfe
2007 – Russ Critchfield
2008 – Charles Johnson
2009 – Nibs Price
2010 – Earl Robinson
2011 – Bob McKeen
2012 – Lamond Murray
2013 – Shareef Abdur-Rahim
2014 – David Butler
2015 – Sean Lampley
2016 – Brian Hendrick
2017 – Jerome Randle
2018 – Matt Biondi
2019 – Natalie Coughlin