Boys & Girls Club Kids, Olympian Leo Manzano Inspire Each Other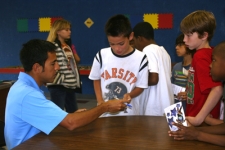 March 21, 2012
By Jennifer Fierro, The River Cities Daily Tribune
MARBLE FALLS, Texas — The chants of "Leo! Leo! Leo!" brought a grin the size of Texas to the face of U.S. Olympian and middle-distance runner Leonel Manzano.

It happened after the former Granite Shoals resident spoke to 96 children at the Boys & Girls Club of the Highland Lakes, Marble Falls Unit, March 15.

He signed an autograph for everyone who wanted one and posed for a picture in front of the banner the children made for him.
The inspirational chants came at a great time, he said, because he is training for the U.S. Olympic Trials with the aim of qualifying for the Olympic team for the second consecutive time.
Read full article at www.dailytrib.com