Breaking Four: A Family Affair: Lap 4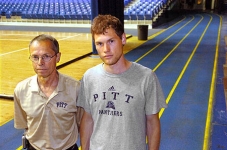 October 16, 2012
By Liam Boylan-Pett, Bring Back the Mile
Editor's Note: This is part four in a four part series written by Liam Boylan-Pett, #315 on the United States sub-4 minute Mile list, boasting a personal best of 3:58.19 (2011 Falmouth Mile). He obtained Bachelor's Degrees in Sociology and Creative Writing from Columbia University and finished his NCAA eligibility at Georgetown University where he completed a Master's Degree in Journalism. Liam currently trains with the New Jersey-New York Track Club and you can read his occasional musings on his Tumblr - Will Run for Food.
Lap 1 | Lap 2 | Lap 3 | Gun Lap
Around the curve Sam Bair III pulls it together some. He doesn't allow the group to roll away from him. The shoulders tighten, his back arches, all the signs of runner's rigor mortis setting in. The jaw locks. The runner questions what he is doing it for. He contemplates stopping even though he knows he won't. The finish line can't come soon enough.
Nine runners cross the finish line before him. He tries to lean forward to get across the white line that marks the end.
Then he waits.
"I was glued to the computer," Bair, Jr. says when talking about his son's race. "He has a tendency to tie up, and off the last turn, I just didn't know. He finished. The announcers were saying they thought he did it."
The phone rings.
"I had him at 3:59.14." It is Dave Nealy, a friend of Sam who made the trek to the race with him.
"Okay, well with automatic timing, they're not going to take more than 0.3 seconds off that," Bair, Jr. thinks in his head. He hopes this can all be over.
And then the announcers on FloTrack: "Sam Bair – Three minutes! And 59.72 seconds!"
The phone rings again.
This time it is Sam.
"Congratulations, son," Sam Bair, Jr. says. "Now you don't have to put up with this bullshit anymore."
"Thanks, Dad." Sam replies.
"You can enjoy life and do whatever the hell you want."
"I know, Dad."
"No one can take this away from you."
Relief.
"It was funny," Bair III says about the race, "I didn't feel like I ran that great of a race. It's such a weird concept. I only had to come down 2 tenths of a second. If I would have done that in any other event, even the 800 where it would be more impressive to drop time, it wouldn't have even mattered. It's a barrier, and you need to run under, so you've got to do it."
In the more than two years since Bair III became the 342nd American to break 4 minutes, his name has been absent from any big time race results. He now lives in Boulder, Colo. He was an art major at Pitt and is working at the CU Art Museum at the University of Colorado.
His dad hasn't stopped running. He's almost 64, but he still gets out there and pounds out the miles. He hopes his son does the same. "He is exercising his demons. I'll support him as best I can when he decides to quit. But it's gotta be his deal."
Bair III, like his father, still runs, getting around 50-60 miles per week around his work schedule. He says he is starting to feel in shape even, and if his body can hold up he'd love to get in a few races this winter. But, he cautions, "We'll see."
The original Sam Bair wasn't a runner. He fought in Guadalcanal during World War II as part of the First Marine Division. He was one of the few to make it back. He was wounded, but he made it home.
His son oozes with pride talking about Sam Bair, Sr.
To Sam Bair, Jr., his son running under 4 minutes for a Mile means more than just the time.
"I was thrilled and relieved when Sam ran 3:59," says Sam Bair, Jr. "But I felt it was more important for my dad.
"This is significant because of my dad. And I told him, you know, Dad, Sam and I will be remembered in a trivial sense. But it's your name…your name is always gonna be a part of that."
List of father / son sub-4 combos HERE.