Breaking Four: A Family Affair: Lap 2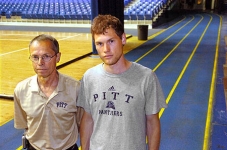 October 09, 2012
By Liam Boylan-Pett, Bring Back the Mile
Editor's Note: This is part two in a four part series written by Liam Boylan-Pett, #315 on the United States sub-4 minute Mile list, boasting a personal best of 3:58.19 (2011 Falmouth Mile). He obtained Bachelor's Degrees in Sociology and Creative Writing from Columbia University and finished his NCAA eligibility at Georgetown University where he completed a Master's Degree in Journalism. Liam currently trains with the New Jersey-New York Track Club and you can read his occasional musings on his Tumblr - Will Run for Food.
Lap 1 | Lap 2 | Lap 3 | Gun Lap
In January of 2006 at Penn State University's indoor track on the State College, Pa. campus, Sam Bair III took 4:00.14 to run 1760 yards. He was only a sophomore at the University of Pittsburgh.
"I thought, OK," Bair the father says of his son. "The kid's a sophomore. He's going to do it."
"It" being a Mile in under 4 minutes.
At the time, no American father / son combo had ever broken four. Could this be the first?
Bair III ran at Notre Dame two weeks later. He ran 4:01 this time.
As a college athlete, the only real times to run a mile are indoors, as the metric Mile (1500 meters) is competed during the outdoor season. The Mile stayed on Bair III's mind.
Bair III's junior year he opened up the season with a 4:00.35 to win at the Penn State track again. Two weeks later at Notre Dame he ran 4:02.
His senior year it was two more "oh so close" 4-flat races — 4:00.99 and 4:00.87. In four separate races over a three-year span, he missed out on breaking four by a combined 2.35 seconds. An average of just over half a second per race. It seemed the running gods didn't want Bair III to break four.
Meanwhile, two other father / son duos came along. In 1973, Barry Brown ran a 3:58.8 Mile in Gainesville, Florida. Then his son, Darren, broke four by the narrowest of margins in Austin, Texas with a 3:59.99 in April of 2008. They were the first U.S. father / son members of the sub-4 group.
Then came Matthew Centrowitz His father, Matt Centrowitz ran 3:59.2 in 1975. By 2009, Centrowitz, Jr. ran 3:57.92 in Seattle. (The same Matthew Centrowitz, who would go on to win the bronze medal in the 1500 meters at the 2011 World Championships in Daegu, South Korea and take 4th place at the 2012 London Olympics.)
The Bair's wouldn't be the first, but it didn't mean it wasn't going to happen. They had been planning on it for a while.
"Fifth grade was the first time I tried to run a Mile, but I couldn't finish," says Bair III. Breathing problems hampered the young, budding athlete.
Like his father, sports were in his blood. Soccer and basketball took precedence over running. By the time seventh grade came around he decided to go out for track. But he steered clear of the Mile.
"I ran 56 seconds for 400 as a seventh grader," he says with a chuckle, "which is actually pretty good." Like his father, he recounts results of races with ease, citing specific races, like 53.4 for 400 as an eighth grader and the first time he ran under 2:10 for 800 meters, both times that showed signs of talent.
It wasn't until high school that his breathing problems subsided and he could give the longer distances a try. Luckily for Bair III, his father was on board as the high school coach and could provide some insight into the world of miling.
"My Dad always made it pretty fun," says Bair III. "Whenever he was running back in the day, he always just enjoyed running. Period."
As a coach, Bair, Jr. was still able to get in his miles, and he was nervous about his son running under him, but he did the best he could to keep the pressure off.
"I did enjoy coaching him," Bair, Jr. says of his son. "As a parent, I use whatever trick I had to keep the pressure off of him and to teach him to enjoy the sport. I didn't want him to feel obligated to run. Didn't want him to deal with the burden of a father who had run under four minutes."
Not that there wouldn't be any pressure. Bair III ran 4:14 as a sophomore in high school and won the Pennsylvania State Meet. With 50-flat speed for a quarter-mile, and the endurance to run a Mile that fast, Bair, Jr. saw in his son a great deal of talent.
Bair, Jr. turns on his coaching voice, which, by deepening and steadying, sounds more assuring and powerful: "If someone has that kind of leg turnover, OK, if this guy doesn't get hurt, if he likes the sport, stays out of trouble, he's got a shot at doing quite well. I really felt that there was some potential with Sam."
Even though he didn't hear a peep about sub-4 from his father, Bair III knew what it meant. He tried to avoid the pressure, but he thought about it.
When he ran the 4:00.14 at Penn State as a sophomore, he had the same types of thought as his father: "I have a couple of years left. This is exciting. I'm going to do this."
But it didn't happen. It just wouldn't happen. All of those 4-flat type races, and he couldn't get under. Was he becoming a head-case like the anonymous message board posters suggested?
To the runner, a tenth, even a hundredth, of a second is everything. It can be the difference between a win and a loss. It can be the difference between a new personal best or just another race. Or it can be the difference between 4:00.00 and 3:59.99.
Somewhere along the line, it was decided that 4 minutes was the benchmark for a great Mile. The difference between 4:00.00 and 3:59.99 is drastic. Just like in a basketball game where a player has 9 points, 9 rebounds and 9 assists, they played a darn good game, but they still didn't achieve a triple double. In the world of the miler, the 4-flat runner will remain as unknown as the online message board posters. Whether right or wrong, running sub-4 means everything.
I started running at an early age, and by the time I reached high school, even though I was only a 4:38 miler, running under four meant everything. My ATM pin code was 3590, a girl in a psychology class asked me if I needed help with calculus when she saw me writing down the splits for a 3:59 in my notebook instead of listening to the teacher. In 2009, I ran a Mile in 3:59.40. It was one of the best moments of my life. My best before that day was 4:04.64, but if I had run 4:00.02, the big jump wouldn't have meant as much. Yet it meant everything even though the only tangible thing that came out of it was my name appearing in the Track & Field News Chronological Listing of U.S. Milers Who Have Broken 4:00 In The Mile. No medal, no prize money, no calls from the president.
In the Mile, 4 minutes is everything. Roger Bannister, the first man to ever break four, looked at the Mile as "having all the elements of drama." John Landy, the second man to dip under, claimed it to have "classic symmetry, a play in four acts." Sebastian Coe, one of the greatest middle distance runners ever, said, "Theatrically, the Mile is just the right length: beginning, middle, end, a story unfolding."
What they forget to mention, is how hard it is. As a seventh grader I ran a Mile in 5:20. It took me twelve years to drop 80 seconds and run that magical 3:59.40. Those 12 years weren't easy. Neither were the 3 minutes and 59 seconds. A sub-4 Mile is special because not many people can do it. The symmetry, the name in a magazine, and all that other stuff are cool, but running sub-4 is special because you put all your heart and soul into something that might not work out. But when it does, there is triumph.
In 1963, Barry Bishop summited Mt. Everest. In a 1964 National Geographic article, he wrote: "What do we do when we finally reach the summit and flop down? We weep. All inhibitions stripped away, we cry like babies. With joy for having scaled the mightiest of mountains; with relief that the long torture of the climb has ended."
It is a dangerous thing to partake in, what happens if you put everything you have into something and then it fails to work out? Sam Bair III desperately wanted to join his father as a sub-4 minute Miler.
He was a fraction of a second away, but it seemed like a lot more than that.
It was such a familiar spot.
For Lap 3 CLICK here.