Bring Back the Mile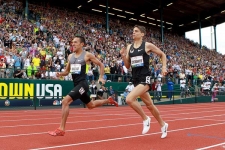 April 02, 2014
Two years ago, former track athlete Ryan Lamppa launched the movement 'Bring Back the Mile: America's Distance'. Here are FOUR reasons why he might just be getting somewhere.
By SPIKES Magazine
1. The Mile movement
"Here in America we eat, sleep and think in miles. Not kilometers. The distance is deeply embedded in our culture," says Ryan Lamppa. "We are not trying to insult the British by calling it 'America's Distance'. Great Britain is the 'home of the Mile'."
The movement is very popular. Lamppa can count former U.S. Mile record holder Steve Scott, running broadcaster Toni Reavis and former world record holder Jim Ryun among his supporters.
"Jim said to me: 'One, it is a great idea, I like it. Secondly and most importantly: how can I help?'"
World and Olympic 1500m medalists Leo Manzano, Jenny Simpson and Matthew Centrowitz are also hugely supportive of Bring Back the Mile (BBTM).
"Half of our Facebook audience are under-30, so young people get the Mile too," says Lamppa. "The Mile is universally liked and people want to follow the Mile."
Continue reading at: spikes.iaaf.org