Cain Wins NYRR Wanamaker Mile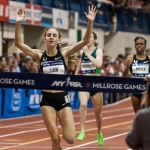 February 16, 2014
A year later, "Cainsanity" is still very much alive and well at the Armory.
By Megan Hetzel, Runner's World
When Mary Cain stepped onto the Armory track on Saturday afternoon sporting a black Nike Oregon Project singlet, then ran a patient first half in the chase pack before unleashing her signature kick to take the win in the NYRR Wanamaker Mile at the 107th Millrose Games, it was hard to believe the precocious 17-year-old star is still juggling homework and college applications.
Like in 2013 when the Bronxville High School senior finished second in the same event behind Canada's Sheila Reid, Cain (above, Kevin Morris) was again a crowd favorite, receiving wild applause from the packed venue in New York City. But this year, with another year of experience under her belt, she looked like she belonged.
Cain broke the tape in 4:27.73, edging out her teammate Treniere Moser. Though she didn't break the world Junior record in the Mile, a mark she missed by 1/100th of a second with her 4:24.11 a few weeks ago, Cain said she wanted to work on race tactics and her finishing kick.
"I really wanted to go with the rabbit, but honestly, one thing I struggle with is competing and being in a pack with a lot of bodies," Cain said. "The goal today was to compete and race smart, and that's what I did."
Continue reading at: www.runnersworld.com