Camel City Elite indoor meet draws top pro fields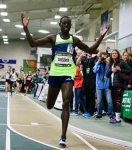 January 08, 2020
Three-time Olympian and world champion Jenny Simpson joins returning star athletes Paul Chelimo, Edward Cheserek, Craig Engels, Clayton Murphy and Raevyn Rogers; $100,000 prize purse plus bonuses
From JDL Fast Track
WINSTON-SALEM, N.C. - In one month, on Saturday, February 8, some of the world's top middle distance athletes will convene at JDL Fast Track to compete at Camel City Elite. With available prize money and bonuses totaling nearly $100,000, the 8th edition is one of the best indoor track meets in the United States.
The Camel City Elite again has assembled another star-studded field. The newcomer to this year's field is three-time Olympian and world champion Jenny Simpson of New Balance. With World Championship and Olympic medals, Simpson, 33, is one of the most decorated female middle distance runners in U.S. history. This will be her first indoor competition outside of the New Balance Indoor Grand Prix meet in Boston since 2013.
"We can't express how excited we are to have Jenny coming to Camel City Elite this year. We have tried to get her each of the last few years, but her schedule never allowed it. When she said 'yes' this year, we literally jumped for joy," said Craig Longhurst, facility director and elite athlete coordinator.
In addition to Simpson, Camel City Elite will see the return of some of the fastest and most popular athletes to have competed at JDL Fast Track:
► Rio Olympic silver medalist at 5000m Paul Chelimo will compete in the men's 3000m event, which he won in both 2017 and 2018
► 17-time NCAA champion and two-time defending champ Edward Cheserek will look to repeat in the Mile, but is also considering the Mile / 3000 double; Cheserek holds the facility and state Mile record (3:53.85).
► 2019 USA 1500m champion and hometown favorite Craig Engels will be running the men's 800m
► Rio Olympic bronze medalist at 800m and flat track "world record" holder Clayton Murphy will be moving up to the Mile at this year's Camel City Elite
► 2019 World Championship silver medalist Raevyn Rogers is returning to run the women's 800m.
"With each of these athletes, they are clearly fan favorites and stars in the sport," continued Longhurst. "They add so much to the meet, not just on the track, but also in their interactions with the fans and sponsors of the meet."
In addition to these athletes, Camel City Elite has a long list of top athletes competing. Other female athletes scheduled to compete include: defending champion Grace Barnett (Mile), Lindsey Butterworth (800m), Amy Cashin (3000m pacer), Amanda Eccleston (3000m), Stephanie Garcia (Mile), Sammy George (3000m), Jessica Harris (Mile), Michelle Howell (Mile pacer), Maddie Kopp (800m), Sharon Lokedi (3000m), Rachel Pocratsky (Mile), Julia Rizk (800m pacer) and Sammy Watson (800m). High school sensation and American 600m record holder Athing Mu is also set to return in the women's 800m.
On the men's side, additional athletes include: Alex Amankwah (800m), Vincent Ciattei (Mile), Donnie Cowart (3000m pacer), Vincent Crisp (800m), Willy Fink (Mile), Edose Ibadin (1000m), CJ Jones (800m pacer), John Lewis (Mile pacer), Craig Nowak (Mile), Drew Piazza (800m), Quamel Prince (1000m), James Quattlebaum (3000m) and Joseph White (800m).
Athletes will be competing for prize money of $6000 for first place, $4000 for second place, $2000 for third place and $1000 for fourth place. Additional prize money is available through 8th place. There are also individual time bonuses of $1000 to the winner if they break a set time in each event, as well as flat track "world record" bonuses.
The Camel City Elite Mile is a Bring Back the Mile Featured Event, showcasing America's best Mile races throughout the year
In addition to the pros, Camel City Elite is currently set to include college athletes from Campbell, Duke, Eastern Kentucky, Florida, Furman, Kentucky, Lee (Tenn.), NC State, Norfolk State, SCAD Atlanta, Temple, UNC Pembroke, Virginia Tech, Wake Forest, West Virginia and Wofford.
This year, Camel City Elite will feature its first high school-only field. The Engels 8 will feature some of the best 800m runners in NC and the east coast and will be mentored by Craig Engels, as the athletes will have an opportunity for a private dinner with Engels the night before the race. The race will feature the following athletes: Mark Alkins (Durham Academy), Will Atkins (West Forsyth), Jonah Hoey (Bishop Shanahan, PA), Zach Hughes (First Flight), Karthik Kochuparambil (Denmark, GA), Jake Toomey (Weddington), Thomas Vo (Green Hope) and Braxton Ware (West Forsyth, pacer).
Admission for the event is $10 for adults, $5 for students and kids 12 and under are FREE.
Camel City Elite will be streamed live online at http://www.jdlfasttrack.com as part of the RunnerSpace +Plus subscription package which starts at $12 a month.
ABOUT JDL FAST TRACK
JDL Fast Track is a privately owned facility that is quickly becoming one of the premier indoor track & field venues in the southeast. Opened in 2012, the facility houses a 200 meter oval track with a Mondotrack FTX surface—the same surface used at the 2012 London Olympic Games. With a seating capacity of 1,700, ten HD televisions showing real-time field event results, and five high definition projector screens for video playback, JDL Fast Track offers fans a unique track & field experience.
To-date, JDL Fast Track has hosted four national championships: 2014 NCAA Division II, 2015 NCAA Division III, 2015 & 2019 USATF Masters Indoor and 2016 NJCAA Indoor Track & Field Championships. JDL Fast Track is slated to host the 2020 NCAA Division III National Championships.