Camel City Elite Launches Unsponsored Athlete Program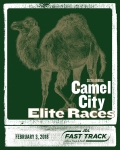 October 04, 2017
One male, one female to be selected for the 2018 Camel City Mile; deadline Wednesday, November 1, 2017
From JDL Fast Track
WINSTON-SALEM, N.C. – Preparations are underway for the 2018 Camel City Elite Races, which will be held at JDL Fast Track on Saturday, February 3, 2018. Craig Longhurst, facility director for JDL Fast Track, has stated that agents and coaches of sponsored athletes have been given a deadline of November 1st to inform Longhurst of an athlete's interest in competing in this year's events. In addition, a new program for unsponsored athletes is also being initiated.
JDL Fast Track and the Camel City Track Foundation are launching a development program by which athletes who may currently be unsponsored and who may not have an athlete representative can gain an invitation to the 2018 Camel City Mile. Longhurst indicated that every year, JDL Fast Track receives emails from unsponsored or unrepresented interested in being invited to one of the six races at Camel City Elite in hopes of a fast race and big payday.
This year's Camel City Elite Races will feature its largest prize purse to-date, with $6000 for first place, $4000 for second, $2000 for third and $1000 for fourth. Additional money is available for places fifth through eighth.
"Many of these athletes are just on the cusp of breaking through. They may be recent college graduates who just haven't gotten their first shoe contract, and all most of them want is an opportunity. In the past, we have turned many of those athletes down. We know how tough it is for these athletes to chase their dreams, so we want to give them an opportunity," said Longhurst.
With that in mind, Longhurst and the team at JDL Fast Track have come up with a way to support these athletes. The following is the procedure how unsponsored athletes can be considered for a spot in the 2018 Camel City Elite Mile races for men and women.
Athletes have until Wednesday, November 1, 2017, to send a letter to Craig Longhurst (craig@jdlcastlecorp.com) outlining their reasons why they should earn the spot in the upcoming Camel City Mile, a Bring Back the Mile Featured Event. At a minimum, the letter should outline their current PRs and the meet in which they occurred, where they are training, why they feel they are a great candidate for the race and any other information they deem pertinent.
MINIMUM MEET MARKS
Men must have a track PR of 3:58.00 or faster for the Mile or 3:40.00 or faster for 1500m. Women must have a track PR of 4:38.00 or faster for the Mile or 4:15.00 or faster for 1500m. Road Mile times will not be accepted. Upon receipt of all athlete submissions, JDL Fast Track staff will select the top 3-5 of each gender. Those letters will be published on the JDL Fast Track website.
Once selections have been made, each athlete's letter will be posted via JDL Fast Track's Twitter account and a Twitter campaign will follow whereby the athlete whose letter receives the most re-tweets between November 10-15 will be invited.
The winning athlete's invitation package will be determined by the number of re-tweets they receive. If the winning athlete receives more than 100 re-tweets, JDL will cover their hotel for the event. If they receive 250-plus re-tweets, JDL will cover hotel and airfare for the event.
"We are excited about this campaign and hope that it will help two athletes chase their dreams. We feel it is a unique way to give unsponsored athletes an opportunity to compete for significant prize money in a race that has typically been only open to a limited number of athletes," Longhurst said that they feel an obligation to promote the sport and that this furthers the Foundation's mission.
ABOUT JDL FAST TRACK
JDL Fast Track is a privately owned facility that is quickly becoming one of the premier indoor track & field venues in the southeast. Opened in 2012, the facility houses a 200 meter oval track with a Mondotrack FTX surface—the same surface used at the 2012 Olympic Games in London. With a seating capacity of 1,700, ten HD televisions showing real-time field event results, and five high definition projector screens for video playback, JDL Fast Track offers fans a unique track & field experience.
To-date, JDL Fast Track has hosted four national championships: 2014 NCAA Division II, 2015 NCAA Division III, 2015 USATF Masters Indoor and 2016 NJCAA Indoor Track & Field Championships. JDL Fast Track is also scheduled to host the 2019 USATF Masters Indoor Championships and the 2020 NCAA Division III Indoor Track & Field Championships. Visit www.jdlfasttrack.com for more information.