Can Henry Wynne Conquer New York?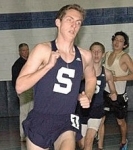 May 17, 2013
It's only when he competes in meets that bring together the best in the nation that Wynne seems truly challenged.
By Jim Gerweck, Stamford Advocate
There's a saying that a prophet is never appreciated in his own land, and perhaps that goes for athletic prodigies as well.
Henry Wynne, the UVA-bound Staples senior, might well be the greatest distance runner the FCIAC has produced. Wynne is certainly in the pantheon that includes New Canaan's Ted Benedict and Mike Cotton as well as Westhill's Kevin King and Ceci Hopp of Greenwich.
Wynne burst into the local running consciousness when he won the league cross country title as a junior in what was at the time considered a minor upset.
In retrospect, we know now that it was merely the coming-out party for a talent that has shown dominance over a range of distances from 800 meters up to 5K.
On the local level, Wynne is so far above the rest of the runners in the league that calling them his "competition" is stretching the definition of the term.
Continue reading at: stamfordadvocate.com