Centrowitz, Souleiman headline 1500 Stockholm showdown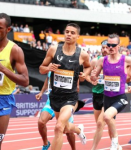 July 29, 2015
Just last week, the U.S. champ edged World Indoor champ Soulemain at the Emsley Carr Mile; this race could be Centrowitz's opportunity to earn a first Diamond League victory.
From LetsRun.com
This is it. The final Diamond League meeting before the 2015 IAAF World Championships is upon us, and it will take place on Thursday in Stockholm's Olympic Stadium. With the Kenyan World Championships trials taking place this weekend, the distance fields aren't as strong as usual, but there are still plenty of big names looking to get in one final effort before Worlds. Matthew Centrowitz and Ayanleh Souleiman will battle over 1500 meters; Molly Huddle looks to earn her first Diamond League victory in the 3000 after coming up short in London; Brenda Martinez tries to get on back on track in the 800.
In non-distance action, U.S. champ Marquis Dendy goes for his second win in as many weeks in the long jump, Pan Am champ David Oliver squares off against London winner Pascal Martinot-Lagarde in the 110 hurdles and world champ Shelly-Ann Fraser-Pryce takes on Tori Bowie in the women's 100.
We present the meet details below, followed by previews of the mid-d/distance events.
What: 2015 Bauhaus Athletics
Where: Olympic Stadium, Stockholm, Sweden
When: Thursday, July 30. Field events begin at 10:00 a.m. ET; DL track events (and the beIN Sports broadcast) begin at 2:00 p.m. ET.
How to watch: Live on beIN Sports from 2:00 p.m. ET to 4:00 p.m. ET. In Europe, you can watch the meet live on Eurosport. Details on the TV/streaming information here.
Schedule/entries/results * TV/streaming information * 2014 LRC coverage
Continue reading at: www.letsrun.com