Coburn Wins CU's First NCAA Indoor Mile Crown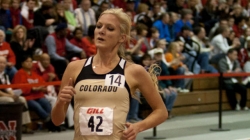 March 09, 2013
By Linda Sprouse, Colorado Athletics
FAYETTEVILLE, Ark. - Senior Emma Coburn claimed the University of Colorado's first NCAA indoor Mile crown on Saturday night; finishing the race with a blazing fast time of 4:29.91.
"We've had some great Milers at Colorado, male and female, so it's such an honor to be the first NCAA Champion amongst them," Coburn said. "I'm proud and really happy. It's been a great season and I'm happy the way the race went."
Coburn's time is the seventh fastest ever by an NCAA runner and is the third fastest ever at the NCAA Indoor Track & Field Championship. She also owns the sixth fastest time in the event (4:29.86) which has her fifth on the all-time performers list. Coburn is just one of five NCAA women to finish the Mile in less than 4:30 and she joins Sally Kipeygo as the only other collegiate athlete to run a sub-4:30 Mile twice; both doing so in the same season.
"This feels great," Coburn said immediately following the race. "This was something I really wanted and the Mile is not my specialty. I wanted to really conquer this distance and I think I made a step in the right direction."
Continue reading at: cubuffs.com