Coe on the Go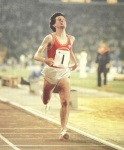 September 07, 1981
His latest Mile world record having lasted but a week, Sebastian Coe came racing back to regain it in Brussels
By Kenny Moore, Sports Illustrated
As the gun sounded to begin the Golden Mile in Brussels' Heizel Stadium last Friday night, August 28th, Tom Byers was caught off balance. He was in the inside lane, determined to set a world record pace. But now several runners had sprinted ahead of him and were about to crowd across and trap him against the rail. "I thought, 'Oh, God, I've blown it again,' " Byers would say later. But the fastest runner off the mark, Sebastian Coe, didn't cut for the pole. Instead, he stayed wide, shoving out Sydney Maree and Steve Scott so Byers could have a clear path to the front. "Just a delicate use of the whip," Coe thought as he settled into second behind the now-steaming Byers.
After 200 meters, Kenya's Mike Boit was a close third, and a gap was already widening to the trailing pack, led by Eamonn Coghlan of Ireland. Coe ran close to the curb, content with the pace, feeling an easy confidence that was far different from his sensations nine days before when he set a world record of 3 minutes, 48.53 seconds in Zurich. "That race had been planned as a record attempt for months," Coe said later. "Television executives were calling and all but saying, 'You'd better not let us down.' But the more you plan.... I was tight in that race, mentally scattered. But now I was flowing."
Coe's ease was all the more remarkable considering that that record had lasted only a week, until the end of a chaotic day in Koblenz, West Germany, when Coe's countryman, Steve Ovett, took it back with a 3:48.40.
A measure of confusion seems to accompany Ovett constantly. The Koblenz race, run just two days before the Brussels Mile, was originally scheduled for 1500 meters, Koblenz being the site of Ovett's 3:31.36 world record at that distance in 1980. But after Coe's Zurich Mile record, Ovett wanted a shot at the English distance. The Koblenz meet director quickly agreed to make the change. But not all the entrants were pleased. West Germany's Dr. Thomas Wessinghage said, "I want a 1500. It's a more important distance to a German. At home I get asked, 'So you ran 3:50 for a Mile. What's that for 1500?' " So there would be two races in Koblenz, a 1500 and a Mile, and all afternoon on the day of the meet the Milers went through a dance of decision. "It was a confusing day," said Scott. "I wanted to run the Mile and to be in a world record try, but this was my last chance this year at a fast 1500 and Jim Ryun's American record [3:33.1, set in 1967]. I figured I could try the Mile in Brussels, so I went to the 1500." So did Boit, who wanted to break Ben Jipcho's Kenyan record of 3:33.16.
Only Scott was successful. In what he called "the one race a year when everything clicks," Scott kicked past Wessinghage in the last 300 meters to win in 3:31.96, taking Ryun's last American mark and threatening Ovett's world record. Boit was shoved into the infield at the start and had to run through part of the long jump pit. He was the last of 19 by the time he got back. He finished third, in a fine 3:33.92, but was galled by what he felt was the waste of a good race and vowed to do better in Brussels.
Then came Ovett's Mile, the first ever contested at Koblenz, and the runners had to wait while officials measured the starting point of the 1,609.344 meter race and chalked it on the track. Ovett's close friend, Bob Benn, was the rabbit for the first two laps, which he covered in 55.63 and 1:53.59, with U.S. 800 meter champion James Robinson second and Ovett third. Robinson was in there for the third lap, which was a chance to redeem himself as a pacemaker. Earlier in the season, in Stockholm, he had roared through the 800 meters of Coe's 1500 meter record try in a berserk 1:47.5. Coe was pulled to 1:49.2, and showed amazing stamina to finish in 3:31.95. "I was so upset I wanted to go home," Robinson said. "I caused him to miss the world record." In Koblenz, Robinson was instructed not to lead until Benn dropped back. He took the pace at the half and smoothly escorted Ovett for another 360 meters.
Continue reading at: sportsillustrated.com
The greatest 10-day span in Mile history: