Cory McGee smashes Indiana state Mile record, sets personal record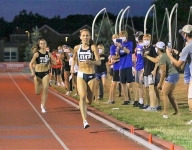 July 25, 2020
A record three U.S. women sub-4:24 same race plus three men sub-4 at special Team Boss event
By Erik Boal, DyeStat Editor
Cory McGee, Dani Jones and Emma Coburn took advantage of racing at sea level for the first time outdoors this year and achieved history by becoming the first American female trio to all run under 4 minutes, 24 seconds in the same race on Saturday at the Team Boss Indiana Mile at Indiana Wesleyan University in Marion.
McGee, a New Balance professional, surged with 250 meters remaining and never relinquished control, clocking a lifetime-best 4:21.81 to elevate to the #8 all-time American outdoor performer.
Jones (4:23.33), a first-year professional, and Coburn (4:23.65) achieved significant track PRs too, ascending to the #10 and #11 outdoor performers in U.S. history.
Tripp Hurt won the men's Mile in a world-leading 3:56.18, just off his 3:56.02 lifetime best, with Nick Harris running a PR 3:57.11 and Mason Ferlic achieving a sub-4 clocking for the first time in his career to place third in 3:58.87.
McGee also achieved a 1500m PR en route of 4:03.82 to run the fastest female Mile time ever on Indiana soil. Jones also ran 4:05 to lower her 1500 personal best as well.
Canadian Nicole Sifuentes clocked 4:30.50 in the Mile on the oversized indoor track at Notre Dame in 2016, to move just ahead of Suzy Favor Hamilton's 4:30.64 on a standard 200-meter indoor banked track from 1989 in Indianapolis.
But thanks to the aggressive pacing of South African Dom Scott Efurd, who brought the group through 440 yards at 1:03.2 and the midway point in 2:10.08, all of her teammates benefited to post the top three outdoor marks in the world this year.
Continue reading at: dyestat.com