Deep Field of Sub-4:00 Milers Ready for GNC Live Well Liberty Mile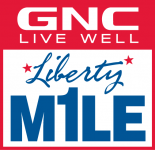 July 25, 2013
Top contender Jordan McNamara to face formidable men's field in Pittsburgh; $31,000-plus prize purse with $4000 for race champion; 11th stop on the inaugural Bring Back the Mile Tour
PITTSBURGH – A prize purse of more than $31,000 has attracted some of the country's top Milers to Pittsburgh on Friday, Aug. 9 for the 2nd GNC Live Well Liberty Mile. At least nine sub-4 minute Milers will compete for the $4000 champion's prize in this unique, nighttime 1 Mile road race.
Jordan McNamara returns to the race after finishing a close second in the inaugural edition to Craig Miller. After a successful summer on the European track circuit and setting a 1500 meter personal record of 3:34.00, McNamara, 26, is ready to improve his time and go for the win here.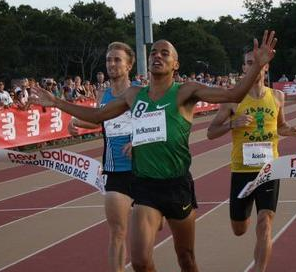 "Spectators who come to enjoy the GNC Liberty Mile will be treated to a world class spectacle with the nation's best Milers going head-to-head on urban streets," McNamara said. "I'm hoping my finishing kicks gets me to the finish line tape first."
McNamara (left) faces tough competition against rising star Matthew Elliott, who became one of the summer's most inspirational track stories after finishing 4th at 2013 USA Outdoor Championships in the 1500 meters, and Miles Batty, who previously held the collegiate indoor Mile record of 3:54.54.
McNamara, Elliott and Batty will compete against other sub-4 American Milers Daniel Clark, Tony Jordanek, Liam Boylan-Pett and Macklin Chaffee. Sudan native and U.S. citizen Dey Dey, who recently won the downhill Bristol Mile in 3:53.7, also will be tough competition.
This year's race also features a new USA Track & Field record-eligible certified course that will take participants through downtown Pittsburgh for a memorable evening Mile race.
Follow updates on the professional race on Twitter at @LibertyMile or visit LibertyMile.org.
About the GNC Live Well Liberty Mile
Organized by Pittsburgh Three Rivers Marathon, Inc., the GNC Live Well Liberty Mile is Pittsburgh's premier street race for all ages and abilities. The GNC Live Well Liberty Mile offers a $31,100 prize purse with $4000 for each Open race champion. The event, the 11th stop on the inaugural Bring Back the Mile Tour, is also hosting the 2013 USA Masters 1 Mile Road Championships.
Elite Entrants: GNC Live Well Liberty Mile - Friday, August 9, 2013
As of July 23, 2013
| | | |
| --- | --- | --- |
| NAME | CTZ | MILE PR |
| Jordan McNamara | USA | 3:52.42 |
| Miles Batty | USA | 3:54.54 |
| Liam Boylan-Pett | USA | 3:56.4 |
| Daniel Clark | USA | 3:56.8 |
| Matthew Elliott | USA | 3:57.16 |
| Macklin Chaffee | USA | 3:58.1 |
| Tony Jordanek | USA | 3:58.80 |
| Girma Gebre | ETH | 3:59.41 |
| Dey Dey | USA | 3:59.6 |
| Ben Bruce | USA | 4:00.4 |
| James Noonan | USA | 4:00 |
| Tony Filipek | USA | 4:02.8 |
| John Coyle | USA | 4:04 |