Deepest Event Fields Expected at 5th Sir Walter Miler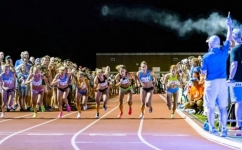 July 14, 2018
Five Olympians, three past champions and rising stars ready to race at Raleigh summer tradition
From Sir Walter Running
RALEIGH, N.C. – Sir Walter Running has announced its deepest elite fields to-date to compete at the 2018 Sir Walter Miler. The 5th event edition returns to its standard first Friday night spot on August 3 at the Meredith College Track. Along with the elite Mile races, a pair of local races will also be contested: a Run Club Mile and a Run Club 4×400m Relay. The Sir Walter Miler is free and open to the public, and will again be broadcast live internationally on FloTrack.
"When we first created this event in 2014, the goal was to get certain athletes a chance to compete that couldn't make it to Europe, or get into bigger American races. We wanted to create a Triple A All-Star Game, of sorts. In 2018, we have five Olympians in our field, yet still hold slots for athletes trying to tackle that majestic 4:00 and 4:30 barrier for the first time. While some things have changed, much of the spirit of the event has remained the same," said race co-founder Pat Price.
Since its inception in 2014, the Bring Back the Mile Featured Event has seen the collective its men's field break the coveted sub-4:00 Mile mark 26 times. Before the event, the last time someone broke 4:00 in Raleigh was 1974.
"We always try to create a balanced field, but this year's field has just turned out to be exceptionally fast. Seven runners have run faster than the current state outdoor record of 3:54.57, so the up-and-comers in the field will be in for the ride of their lives!" said Men's Elite Coordinator Stephen Furst.
Before the Sir Walter Miler, no woman had ever broken the 4:30 Mile outdoors in North Carolina. Through 2017, the collective women's field has broken the very exclusive barrier 9 times at the event.
"We have so many great story lines in our Women's field this year, with a blend of national superstars, mixed with an exciting class of younger developing athletes just out of college that have a great opportunity to breakthrough. We also love that we have some of our favorite returning athletes, including three of our past champions, and our meet record holder, Lauren Johnson (4:25.04). I think we could see the most sub-4:30s at this event," said Women's Elite Coordinator Jeff Caron.
Races will start at 8:15pm at Meredith College, with the popular pre- and post-party again being held at Raleigh Brewing Company, where Bo's Kitchen will be on hand, serving up Korean Street Food. Umstead 100 finisher and Raleigh Brewing Co. Head Brewer, Les Abbott, is working on a special beer for the event, and Wicked Weed Brewing has again brewed an exclusive as well. The "Run for El Dorado" Pale Ale is a play on Sir Walter Raleigh's El Dorado (City of Gold) Expedition, and the El Dorado hop, which the beer is built around, will be available at the pre- and post-party, as well as around town at local bottle shops, including the Sir Walter "Extra Miler" at Tasty Beverage on Saturday afternoon. All proceeds will go to the Kay Yow Cancer Fund, a 501 (c)(3) charitable organization committed to the fight against women's cancers.
"Clearly we are excited about the great fields assembled, but personally, I get most excited seeing the way in which the community is truly starting to own this race. Going into our 5th year, we see the movement of activation and inclusion in what we are doing, and that gets me really hopeful for where we are going!" said race co-founder Sandy Roberts.
The Sir Walter Miler weekend kicks off Thursday afternoon with the Elite Athletes getting into town and meeting local high school athletes at the "Adopt-a-Runner" event. Interested local High School Coaches can fill out this form to get more information.
On Thursday night, a private dinner for the athletes at Runologie, who collaborated with the Sir Walter team on developing commemorative goodr sunglasses to celebrate 5th event edition. Food and drink will be catered by Trophy Brewing Co. and limited tickets are available to the public.
WOMEN'S PRO FIELD
Sarah Brown – Team New Balance
Amanda Eccleston – Brooks
Stephanie Garcia – Team New Balance
Sammy George – Raleigh Distance Project
Lauren Johnson – adidas / BAA
Megan Mansy – HOKA / NJ*NYTC
Angel Piccirillo – Juventus TC
Nicole Sifuentes – Saucony
Kate Van Buskirk – Nike
Sara Vaughn
Heather Wilson – HOKA / NJ*NYTC
Cory McGee – Team New Balance
Charlene Lipsey – adidas
Ce'Aira Brown – HOKA / NJ*NYTC (Pacer)
MEN'S PRO FIELD
Craig Engels – Nike / Nike Oregon Project
Robby Andrews – adidas
Christian Soratos – adidas
Lopez Lomong – Nike / Bowerman Track Club
Robert Domanic
Pat Casey – Under Armour
Graham Crawford – HOKA / NJ*NYTC
Johnny Gregorek – ASICS
Ben Blankenship – Nike / Oregon Track Club
Sean McGorty
Hassan Mead – Nike / Oregon Track Club
Jacob Thomson – adidas / BAA
Charlie Marquardt – Bryn Mahr Running Co.
Henry Dwyer
Jesse Garn – HOKA / NJ*NYTC (Pacer)
The free Rise & Run with the Pros event, sponsored by ElliptiGO and Rise Cameron Village will be held at 9:00am on Saturday, August 4, at the Harrison Avenue entrance of Umstead Park. Fans are invited to come run 4-plus miles with the Elite athletes, and will be treated to coffee, biscuits, and donuts afterwards. Arrow Haircuts will provide complimentary cuts to all elite athletes competing. The Holiday Inn Raleigh Downtown is the official meet Hotel, and has discounted rates for fans attending through July 20.
Sponsors of the 2018 Sir Walter Miler are: Waverly Hematology Oncology, The Bone and Joint Surgery Clinic, USATF North Carolina, Greater Raleigh Sports Alliance, HomeAdvisor, Trophy Brewing Co., ElliptiGO, Arrow Haircuts, Shop Local Raleigh, Gregory Poole Equipment Company, and Rise Cameron Village.
The Sir Walter Miler is directed and promoted by Sir Walter Running, a Raleigh-based 501(c)(3) nonprofit organization whose mission is the Greater Raleigh running community together through innovation, activation, and inclusivity. Sir Walter Running is a USATF club that also produces the Pop Up Miles series, the Raleigh RunDown Downhill Mile, the Rocket Mile, Pop Up Cross Country at Dix Park, a series of Strava Challenges, the Summer of Miles podcast, and the post-run brand.