Drew Hunter eyes sub-4 minute Mile indoors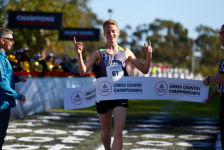 December 17, 2015
Foot Locker XC champion to compete as Open runner at professional races this winter: "I think I can run 4-flat right now."
By Marc Bloom, Running Times
Shortly after his runaway victory at the Foot Locker national high school cross-country championships on Saturday in San Diego, Drew Hunter told Running Times that his next goal was a sub-four-minute Mile during the upcoming indoor track season.
"I think I can run four-flat right now," Hunter said, after dominating the 5K race at hilly Balboa Park.
Advertisement
Hunter, an 18-year-old senior at Loudoun Valley High School in Virginia, said he would compete as an open runner this winter. He hopes to run professional races to get the best competition and has already lined up the Camel City Invitational elite Mile on January 30, 2016, at the JDL Fast Track, in Winston-Salem, North Carolina. Hunter, who has signed with the University of Oregon, will face Matthew Centrowitz, who is an Oregon alum and a two-time world championship 1500-meter medalist, among other world-class runners.
Continue reading at: www.runningtimes.com