Drew Hunter Returning to The Armory, Site of His High School Sub-4 Record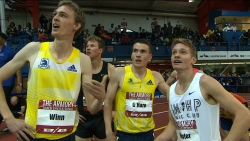 November 14, 2019
Now a professional, Hunter to give insights of his great feats to high school student-athletes at The Armory Indoor Track & Field Camp
From The Armory Foundation
NEW YORK, N.Y. – Drew Hunter's return to The Armory on Saturday, November 16 will be especially gratifying for two reasons.
For one, he will be working alongside high school track & field athletes as an instructor at The Armory Indoor Track & Field Camp at The Armory New Balance Track & Field Center. A truly unique opportunity considering he's only a few years removed from being a high school student himself.
Second, Hunter will be returning to the site where he set the high school indoor Mile record with a 3:58.25 clocking.
"Every time I step foot in The Armory," Hunter said, "I feel all sorts of nostalgia."
Hunter, the 22-year-old middle-distance professional runner from Purcellville, Va., will be one of the select premier track & field stars turned instructors at The Armory Indoor Track & Field Camp. Joining Hunter include standouts Ajeé Wilson (current outdoor and indoor American record holder in the 800m), Sydney McLaughlin (at the age of 16 qualified for 2016 Olympics and is considered the "face of USA Track & Field" as a premier sprinter, hurdler), Lawrence Johnson (Indoor American record holder in pole vault, World Champion, Olympic silver medalist, 7-time U.S. champion) and others to offer high school students unsurpassed instruction.
Following is a Q&A session with Drew Hunter:
QUESTION: At what age did you know that you were going to excel in track & field en route to a professional career after high school and how did you come to that conclusion?
HUNTER: After my freshman year of high school I realized I had a lot of potential to do something special in track & field. At the time, I was very naïve and didn't know how far I could take this running journey. But, with a good summer of training and a ton of momentum going into my sophomore year I became an elite high school runner. At this point I knew I wanted to run in college and then professionally.
QUESTION: During the upcoming camp what will be the most important thing you can tell high school kids about being a success and enjoy their participation in track & field, whether it's simply in high school or perhaps beyond?
HUNTER: I believe that a key to my success and happiness in track & field was finding out how much running could do for me. All my best friends, mentors, idols, and people who push me to be a good human are because of running. The sport opened so many doors for me that otherwise would have been closed. So, by starting to run at a young age or even high school I think it's important to surround yourself with people who believe in you and want you to excel at whatever it is you're doing. This can be as simple as running a Mile personal record or training for the Olympics so you can reach the highest level in this sport.
QUESTION: When you were in high school, how much focus did you have on training, nutrition, maintaining a high academic standard and enjoying life as a teenager and being a part of a family with eight siblings?

HUNTER: My parents and coaches always pushed me to be a student-athlete. Meaning that if I were running well – better have good grades too. This was very important because as hard as I was working in the classroom was equivalent to how hard I worked on the track after school. Luckily, I grew up in a great area with great friends who understood that there is more to life than a time on a clock. I surrounded myself with people who loved me unconditionally for who I was and not what I did on the track.
That being said – I took my sleep, nutrition and training regimen very seriously. Having a family with eight siblings I always had someone to hang out with and be myself which was crucial to my well-being outside of running. Something cool about my family is that both of my parents are incredibly successful coaches but neither of them pushed me or my siblings to run. They simply provided us with a situation that would set us up for success in whatever endeavor we chose.
QUESTION: What does it mean to come back to The Armory (where you broke the high school indoor Mile mark) and work with high school long-distance runners?
HUNTER: I will never forget running 3:58 for the Mile and the crowd erupting as the time appeared on the clock. Even as I type this, I have chills remembering the significance of that day. It is an honor to be able to give back to a place that means so much to my running career. And it means even more to help others achieve their dreams and aspirations.
QUESTION: Who was the person who gave you the best advice when you were in high school and what was that advice?
HUNTER: My dad was the first person to ever tell me how good I could be at running. When I first started running, I had a hard time finishing races fast and winning. He instilled a warrior-type mindset when I step foot on the starting line. This changed my running career for the better as I put on emphasis on winning races and not chasing a time on the clock. This helped me push past what I thought my limits were. I still use this advice every time I race.
QUESTION: What are your goals for 2020?
HUNTER: To become an Olympian. But to cherish the path and the process of trying to be the best version of myself. Not to get caught up in the scary thought of failure or not reaching my goals. 2020 is all about living my journey and doing what I can to be the best runner and human I can be.
To register and learn more about The Armory Indoor Track & Field Camp, go to: armorycamp.org