Hunter goes sub-4, sets U.S. high school indoor Mile record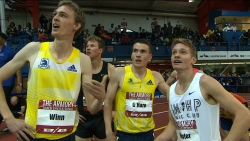 February 06, 2016
"It was so loud the last lap that I just, kind of adrenaline kicked in." - Drew Hunter, 8th U.S. high school boy to break 4 minutes, now third fastest all-time behind legends Alan Webb and Jim Ryun
By David Monti, RRW
(c) 2016 Race Results Weekly, all rights reserved, used with permission
NEW YORK - Before stepping onto the 200-meter oval for the invitational Mile at the Armory Track Invitational on Saturday afternoon, high schooler Drew Hunter of Purcellville, Va., had to overcome an unexpected opponent: a badly knotted shoelace. Hunter, 18, who moments later would break Alan Webb's 15-year-old high school indoor Mile and 1500m records in the same race, had knotted the laces of his adidas spikes so tightly that he couldn't make a critical adjustment.
"I tied them, and they became a little loose," Hunter (above far right) told reporters after running 3:58.25 to break Webb's previous mark of 3:59.86 set on the same Armory track here in 2001, and the 8th U.S. high schooler to go sub-4 (see table below). "I had, like, a double-knot, like, in the middle of another knot and I couldn't figure out what to do. So my mom, who has nails --I, like, don't have nails-- came over and helped get it out. I was just like, of course, right before I go out there I can't even put my shoe on."
Hunter, who last weekend set the American high school indoor record for 3000m (7:59.33), found the pace of today's race to his liking. Surrounded by both professional and collegiate athletes, Hunter settled into the back half of the pack while the designated pacemaker, Mike Rutt, tried to set up the top athletes for a sub-3:55 clocking. Hunter looked strong, but he said he actually wasn't feeling his best.
"I felt terrible out there," Hunter admitted. "So, honestly, the whole race I was just, like, I'm going to hang on for as long as possible."
According to splits taken track-side by statistician Walt Murphy, Hunter came through the first quarter in a reasonable 59.6 seconds, and the half in 1:59.8. But it's always the third quarter which is the most challenging as fatigue sets in and it's too early to sprint to make up for lost time.
"I didn't know where I was at 1200," Hunter said. "I figured I was around three-flat."
Indeed, Hunter hit the three-quarter mark in 3:00.7, slightly down on Alan Webb's 2:59.9 at the same point. But in the final two laps, he seemed to spring back to life.
"I was like, I figured I've got to go," Hunter recalled telling himself. "I wanted to run that second to last 200 really hard, just because that was going to make or break the race. Last week in the 3000, that was my slowest 200. So, I know coming into it I couldn't fall asleep on that one."
With public address announcer Ian Brooks whipping up the crowd, Hunter gave a mighty push at the bell, bringing home his last quarter in a very grown-up 57.6 seconds to break Webb's mark easily. Along the way, Armory officials timed him at 3:42.83 through the 1500m mark, faster than Webb's 3:43.27 U.S. high school and Junior record.
"It was so lo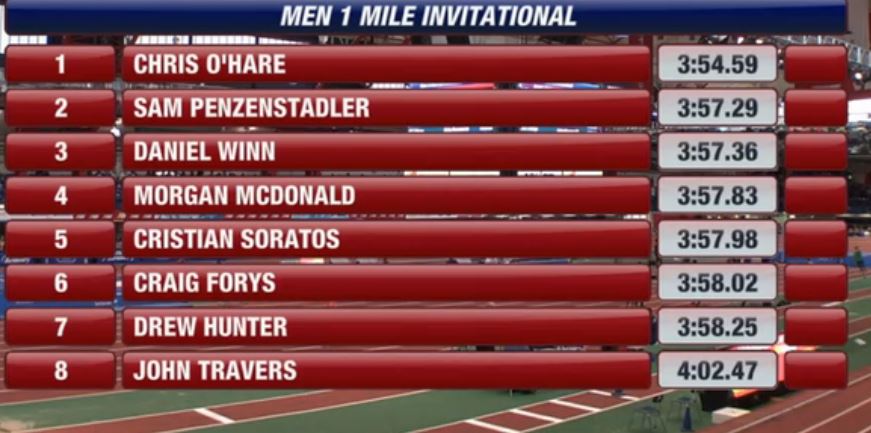 ud the last lap that I just, kind of adrenaline kicked in."
Hunter said he feels a real kinship with the now 33-year-old Webb who grew up in Reston, Va., fewer than 30 miles from Purcellville.
"It's really cool and really special to me," mused Hunter, now the third fastest U.S. high school Miler ever behind legends Webb and Jim Ryun. "Alan is someone I've looked up to ever since I began running. He's now someone I now call a friend." He continued: "It's not like the legends you hear about a long time ago. It's someone I actually know and have a connection with."
At the front of the race, former University of Tulsa star Chris O'Hare powered away from the field to clock 3:54.59, the second-fastest time in the world this year. In all, seven men broke four minutes; Hunter was the last.
In the women's Mile, Gabriela Stafford of the University of Toronto was in second place at the bell behind steeplechaser Ashley Higginson, and a few strides up on 2008 Olympian Erin Donohue, who is attempting another comeback. Stafford, the 2015 World University Games 1500m silver medalist, easily kicked away from the field to win in a personal record 4:29.07 (Higginson faded to fourth). Donohue, 32, who has been plagued with injuries and has hardly competed since 2011, took second in 4:29.67, her fastest indoor Mile in six years.
"I knew through workouts that I should be able to run well," said Donohue. "It's always a little nerve-wracking until you get out there and get going and see how your legs feel and how you react. So, I'm very happy."
Race and post-race video HERE.
U.S. high school sub-4 lists HERE.