Edwards shoots for 4 minute Mile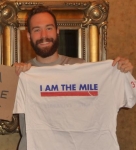 August 19, 2014
Mile Night to be contested on Friday during halftime of Delaware High School football scrimmage
By Steve Blackledge, The Columbus Dispatch
Jake Edwards already has crossed off several items from his bucket list.
The former Delaware standout won a state high school track championship in the 1600 meters in 2007, earned a scholarship to Ohio State and graduated from there after an up-and-down track and cross country career. Back in February, he finally broke the coveted 4 minute Mile mark for the first time.
As part of his comeback in competitive running (he tired of long hours working a desk job), Edwards came up with an idea to give something back to his hometown and raise interest in the sport.
On Friday, at halftime of Delaware's home football scrimmage against Marion Harding, Edwards will head a group of elite runners attempting to break the 4 minute Mile before his hometown fans. The event, called Mile Night, will be sanctioned by USA Track & Field and will be timed by a nationally recognized company. The other competitors will attempt to top qualifying standards for upcoming meets.
Continue reading at: www.dispatch.com