Efraimson takes life as a professional runner one step at a time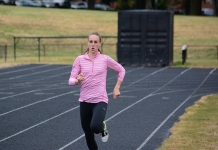 June 08, 2015
Breakthrough at Pre Classic highlight of year marked by growth
By Micah Rice, The Columbian
On a recent rainy afternoon, one of the hottest young names in American running blazed around the Hudson's Bay High School track.
As Alexa Efraimson's eyes locked onto the finish line ahead, each step kicked up water behind.
She was doing the unglamorous work of building her speed, 150 meters of sprinting at a time. The only onlookers were her coach, a journalist, a local resident training on his own and the occasional crow.
It was a low-key and humble setting compared to the previous Saturday, when Efraimson made a resounding statement to the track and field world.
At the Prefontaine Classic in Eugene, Oregon, the 18-year-old ran the fastest 1500 meters ever by an American woman younger than 20. Her time of 4 minutes, 3.39 seconds shaved more than three seconds off her previous best time.
Continue reading at: www.columbian.com